Lights-Out enables you to put a Windows Home Server into suspended mode or hibernation and resume on user defined events.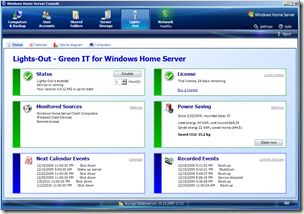 The latest 1.0.0.0 version is now available as 2 versions. A free community edition and a licensed edition for €15 personal/€25 commercial.
What's New:
Support for non WHS clients like Macs, Xbox, streaming clients
Support for process, file, cpu and network load monitoring
Scheduled wake-up, backups and a client option to shut down after backup
Localized for English, German, French, Spanish and Chinese
Polished GUI
More details are available from here.
Share this WHS Article with Others: