Version 3.1 of WHS-Download Manager is now available for download.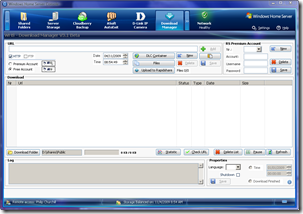 The add-in helps organize large amounts of data and can download ULRs. The add-in can be configured to download a specified amount of data at a specified time and is optimized for use with Rapidshare, both free and premium accounts.
Version 3.1 contains some bug fixes and adds a new feature: DLC-Container format support. Links encrypted in DLC-Files can be added to the Download-Pool.
Developer Christof Rakowski also tells us that a Client-Version, which will feed links to the Windows Home Server, will be out soon – Great news!
Grab the add-in from here.
Share this WHS Article with Others: