Search in Windows 7 introduces Federated Search where you can search for items in remote locations right from within Windows Explorer.
For example you can search a web site (like mswhs.com) directly from the Windows 7 search box, and to make that possible we have made a search connector for MSWHS.com which also adds MSWHS to your favorite locations in Win7.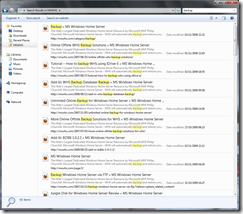 Just download and double click on the .osdx file to enable searching of MSWHS.com directly within Windows 7 Windows Explorer.
Download from here.
Share this WHS Article with Others: