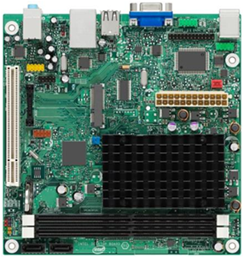 The latest mini-itx main board from Intel is the D510M0 which is equipped with the Intel Atom Dual Core D510 processor (2x 1.66GHz and 2x 512K cache) and the Intel NM10 Express Chipset, providing more than enough power for a Windows Home Server home build.
As well as the 2x hyper threaded 1.66GHz CPUs (4x CPUs in Task manger) the north bridge controller is on the SAME silicon as the CPUs, improving overall performance.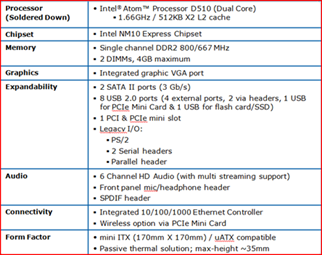 An early tester of the D510M0 board is Tranquil PC who had this to say:
(We) will be using this new board in numerous new PCs and Servers, including the new MiDASS series of Home Servers.  There is talk, that the board will also be made available on it's own too.
Due to be shipped in early January 2010 by Tranquil PC the TDP is only 13W (that's the CPU and the North Bridge) and would suggest that, with suitable air flow, the D510 can be passively cooled by the fitting of a heat sink, making a quiet Home Server solution.
More details are available from here.
Share this WHS Article with Others: