D-Links most popular home security cameras can now be managed and accessed within the Windows Home Server console.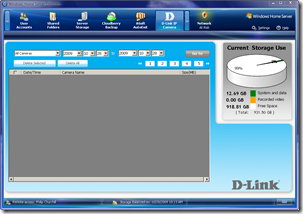 After a longer than usual install process (compared to other add-ins) the D-ViewCam add-in adds a D-Link IP Camera tab in the WHS console. Video and motion monitoring are recorded from D-Link security cameras directly to the server where users can configure the recording schedules and access recorded or streaming video from the home server using a web browser.
As well as this users can remotely access their IP surveillance system from any computer with Internet access. 
As you can see four cameras can be viewed at once on a single screen.
At the current time the DCS-1100, DCS-1130, DCS-2121 and DCS-920 D-Link network camera models are compatible with the D-ViewCam add-in for Windows Home Server, although D-Link have stated that they are working on developing more D-Link devices which are WHS compatible
Steven Leonard, Microsoft Senior Product Manager for WHS had this to say:
We are pleased that D-Link is continuing to extend the value of Windows Home Server with the D-ViewCam Add-in, Windows Home Server provides a perfect platform for D-Link's popular surveillance solutions, providing peace-of-mind for customers at home and in their business.
As well as the add-in D-Link are also providing a 65 page PDF User Manual which are all available from here.
Share this WHS Article with Others: