Nigel "Cougar" Wilks has released his much anticipated add-in "WordPress Installer for WHS".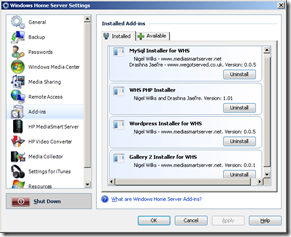 The add-in will install the popular blogging platform onto Windows Home Server and requires that the PHP and MySql Installer add-ins are already installed. Once the WordPress Installer for WHS is installed all that's required is the creation of the WordPress Database and User Account by using PhpMyAdmin before running WordPress for the first time.
All the required info is available from here.
Share this WHS Article with Others: