The Xtreamer is a media player and streamer that enables you to play and stream movies and videos, listen to your music collection and show slideshows of your photos on your TV.
This device enables you to display all your media that is stored away on other machines on your home network, including of course your Windows Home Server machine. Connection to your television is through HDMI, (cable not provided), or component audio/video cables, so if you have an older TV you will have problem connecting via the old co-ax type connection unless you have some kind of intermediate converter. However as this device is all about High Definition Video and Audio, it would be rather a waste to connect it to your older television – a good excuse to upgrade to the latest HD televisions!

Package Contents
Xtreamer (HDD not included)
110~240V Power Adapter (supporting UK/EU and US)
1.5M length HDMI cable (optional)
Wi-Fi 802.11n USB Antenna (optional)
Audio & Video Cables (3 way)
Remote Control with 2 "AAA" batteries
USB Slave cable
Quick start guide
Technical Specifications
Memory – 256MB DDR SDRAM, 32MB Flash
Chipset – Realtek 128X (Special Edition)
Network – Ethernet 10/100, WIFI USB Antenna 802.11 (optional)
Connectivity – WIFI , UPnP SSDP, UPnP AV, NTFS
Dimensions – Width 10.5″(180mm) x Depth 1.25″ (32mm) x Height 2.25″ (82mm)
Power – 12V DC, 3A
Video containers:
MPEG1/2/4 Elementary (M1V, M2V, M4V)
MPEG1/2 PS (M2P, MPG)
MPEG2 Transport Stream (TS, TP, TRP, M2T, M2TS, MTS)
VOB
AVI, ASF, WMV
Matroska (MKV)
MOV (H.264), MP4, RMP4
FLV – Flash Video
Video codecs:
XVID SD/HD
MPEG-1
MPEG-2 – MP@HL
MPEG-4.2 – ASP@L5, 720p, 1-point GMC
WMV9  – MP@HL
H.264  – BP@L3,  MP@L4.0, HP@L4.0, HP@L4.1
VC-1 – MP@HL, AP@L3
Audio containers:
AAC, M4A
MPEG audio (MP1, MP2, MP3, MPA)
WAV
WMA
FLAC
OGG
AVC HD
Audio codecs:
Dolby Digital
DTS
WMA, WMA Pro
AAC
MP1, MP2, MP3
LPCM
FLAC
Vorbis
· Audio pass through : DTS, Dolby Digital, DTS-HD MA, DTS-HD HR, Dolby True HD, Dolby Digital Plus
· Photo formats : JPEG, BMP, PNG, GIF, HD JPEG
· Other formats: ISO, IFO, FLV, RM, RA, RAM
· Subtitle formats : SRT, SMI, SUB, SSA, IDX
· Streaming formats : RTSP, FLV
Web Services
Video: YouTube, Picasa, Yahoo Video, CNN, NBC Today, CBS Face the Nation and more
Audio: Live365 Radio, iPodcast, Radiobox, ABC News, BBC Podcast, CNN News , Indiefeed, Jamendo
Photo: Picasaweb
RSS feed: Yahoo! Weather, Yahoo! News, Yahoo! Xchange, MSNBC News and more
Networking details
The Xtreamer comes with Intelligent QoS technology, which analyzes and separates wired and wireless traffic into multiple data streams. The Xtreamer embedded Wireless Intelligent Stream Handling (WISH) technology improves wireless media by moving time-sensitive tagged traffic towards the front of the queue. WISH automatically detects multimedia and online movie formats, requiring no need for user configuration. It works transparently with other QoS technologies to immediately improve wireless media speed.
The Xtreamer supports the latest wireless security features to help prevent unauthorized access, whether from over a wireless network or the Internet. Support for WPA and WPA2 standards ensure that you will be able to use the best possible encryption regardless of your client devices. It will also appear on your network listing on your PCs as "VENUS", which will allow you to transfer files to the hard disc on the unit if you have installed one.
Initial Impressions
The unit is nicely packaged and as is the case with most consumer electronics a lot of thought has been put into the "opening experience" of the product.
The almost compulsory unpacking video is available below, (the audio is Dutch, but you'll get the idea!):-
[youtube=http://www.youtube.com/watch?v=4S4nGEn8Gjw&hl=en&fs=1&]
Images
The box is relatively attractive and informative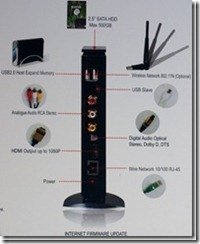 The contents of the box are well set out
The package contents in their entirety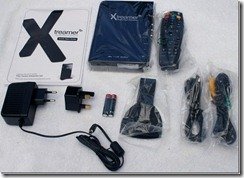 The unit itself and the remote control
Side views
Various angles of the unit
A top view of the unit with the lid off and ready for a 2.5"SATA disc.
The wireless network aerial, (which can be twisted to the upright position if preferred)
Some further shots of the back of the unit
My standard unit of measure to give an idea of the size of the unit!
Usage
The unit initially takes a few seconds to boot but then presents you with the home screen as illustrated below.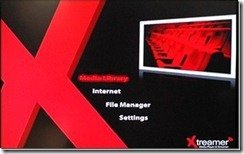 There are four main options available on the (very red!) home menu – Media Library, Internet, File Manager and Settings. If you connect the unit via an ethernet capable and your network is set up with DHCP as  a matter of course, you will be able to delve straight in to the media library. However, if you have connected via the wireless aerial you will have to visit the settings menu first to swap the connection over to the wireless link and enter any WEP or WPA keys for your network. Visible SSIDs are shown as a matter of course, but if you have hidden this then there is a little more work to do.
Media Library
This is where you access the various libraries on the PCs and WHS machines on your network. If these devices require a user and password then the Xtreamer prompts you for this information, which you can then save away as a favorite shortcut.
I had samples of the many file formats supported and they all played and the unit had a very good picture quality. Any degradation of image would be down to the "ripping" quality of any DVDs into secondary formats such as AVI.  However all the professionally created MPG, AVI and MKV files that I have played nicely without any issues, and no "remnants" of any kind were visible.
One omission in the playback formats that I immediately found was a lack of support for .dvr-ms or .wtv, (as created by Media Center in Win 7), so I was unable to play back any recordings made on my Windows Media Center machines. To me this was the only real negative side of this unit, but frankly for the way that I use the media files on the network it was rather a large problem.
Internet
This menu gives you access to the online services such as YouTube and YahooVideo, but this is where I did start to encounter judder and latency in the playing video. However this is very likely to be down to your broadband connection rather than an inherent issue with the device. The "loading" icon which is just a square that gradually fills, is unattractive but of course doesn't effect the eventual playback. This is also different from the other loading icon shown elsewhere which is a red circle that spins, much in the same light as some Microsoft offerings, but is red rather than the Microsoft blue.
This ability to watch internet based videos is a nice "extra" feature, but not really something that I think most users would make use of. If this was extended into making use of the BBCs iPlayer and the similar viewers from other channels, then the functionality would be of more use to the average viewer.
File Manager
This screen can be used to move files across your network or from any attached NAS drives onto the optional SATA 2.5″ drive that you can fit into the device. I feel that this would more logically sit off of the settings menu rather than as a front screen item. However this function is easy to use and its obvious how to move files around.
Settings
In the settings menu you can alter such things as network connectivity, interface language, output for 1080p. The options are logically set out under various sub-categories, and even non-IT people should be able to alter the products set up to suit their own viewing environment.
Playback
All the video files I tried, played cleanly with crisp imagery, (except those that had been encoded with less than optimum settings in the first place), so the overall view of this as a streaming device was that it accomplishes the job well. One issue with some videos is that if you paused and came out of them, and then went back to them; the unit offered to resume the video. You would presume that having been offered this that the video would start where you left off, but it didn't. It just started right at the beginning again! It may be that those file formats don't easily allow for resuming, but the Xtreamer should know the difference between those that do and those that don't. This isn't a major criticism as the Xtreamer allows you to fast forward at up to 32 x the normal speed, so you can get back to where you were quickly.
Music playback was equally easy to navigate to and the music played back cleanly and without any jerkiness.
The photograph slideshow worked well but there doesn't seem to be very many options about how you want the slide show to play back, but I'm not sure that this would be a primary use for the Xtreamer anyway.
Although my kids, (aged 10 and 8), were well aware of the playback capabilities of the XBox, they were more comfortable watching films using this device. Probably just because it was a new gadget as much as anything; but this also proves that you don't need to be highly technically savvy to use the Xstreamer.
Video Tour
There is a video tour of the unit if you click the link below:-
[youtube=http://www.youtube.com/watch?v=GSaoNTSNn0g&hl=en&fs=1&]
More screen shots are also available at http://www.thextreamer.com/screen_shots.html.
There is a lively support forum available at http://forum.xtreamer.net/viewforum.php?f=50 .
Pricing
£99 including VAT, + £8 delivery (including a free wireless aerial if bough during September 2009), if bought from the Xtreamer Shop.
Conclusions
Connection to my 802.11g wireless network was easy to do, and then swapping over to a wired connection was even easier. The unit quickly led me to the various network workgroups available on my network from which I could see all the machines on my network, regardless of whether they were XP, Vista, Win 7 or of course my Windows Home Server machine.
Once found it was easy to play pretty much any type of video or audio file, or display any of the photographs available. Even on my wireless connection there was no noticeable problems in streaming any videos and certainly no judder that you might ordinarily expect. This of course would depend on whether there are any other users on the wireless network using the connection heavily. Unfortunately I was unable to try a load test in this context, but the Xtreamer seems very clever in how it buffers the stream, so this may not even be an issue. Of course you are unlikely to see any latency on a wired network.
One trick that I think that the Xtreamer team have missed is that this unit could so easily have been the Media Center extender that we have all been waiting for. Apart from some early attempts at this genre of device, which seem to have largely left the market now; it would appear that the XBox 360 is really the only device that can make use of Media Center's extender functionality. I don't think that it would take a lot of work to incorporate this kind of capability into the device so maybe one feature for the future?
Once setup both my wife and children have found the interface easy to navigate round, and so for that reason the very rare wife approval rating has been awarded! The only other comment from the rest of the family, was the use of the color red throughout the interface was a bit "in your face". So an option to change interface coloring would be a nice upgrade for the future.
All in all it is a great unit, (at a great price!), that so nearly does everything I would need it to do, especially as it so easily makes use of the centralized nature of having a Windows Home Server machine at the heart of your home network. I think this unit would do everything that MOST users would want from it, and just needs a few extra file formats to get to the right level of media support – but how about the Windows Media Center support guys?!
Share this WHS Article with Others: