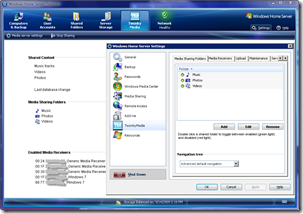 TwonkyMedia Server 5.1 has been released mainly to improve performance issues and is also now Windows 7 compliant, but the best news is that there is now a version specially for us Windows Home Server users.
Owners of the HP and Fujitsu WHS retail boxes have had a copy of TwonkyMedia Server as part of the install process and now the rest of us can purchase a copy too.
TwonkyMedia Server is available for $29.95 or €19.95.
You can download the msi installation file here, which you should place into your add-ins directory.
Share this WHS Article with Others: