Paul Thurrott's SuperSite for Windows has a review of the new EX49x MediaSmart Server from HP which takes a look at the hardware and software improvements in HPs third generation of Home Server.
Defiantly worth a look is a chart looking at the hardware differences between this and previous MediaSmart models.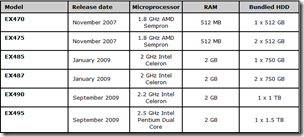 Read the full review here.
Share this WHS Article with Others: