Kam Lau from KAMLAU.COM has a great guide on setting up eSata port multiplication with the Acer Aspire easyStore using a eSATA PCI-X port multiplier card included with a Sans Digital TowerRAID Direct-Attached Storage (DAS) unit.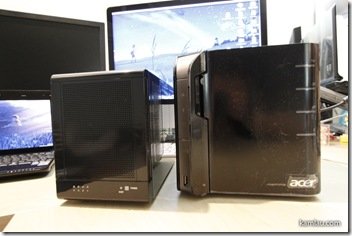 What does this mean?
Basically when your storage capacity runs out on the Acer you can use a DAS unit (like the Sans Digital TowerRAID) for additional storage space. In this example 4 hard drive slots in the Acer and 4 more in the Sans Digital TowerRAID TR4M-B. An impressive 8 hard drive slots!
You can read the full guide here.
Story courtesy of MediaSmartServer.net.
Share this WHS Article with Others: