The  add-in BDBB has been updated to version 1.0.2.2.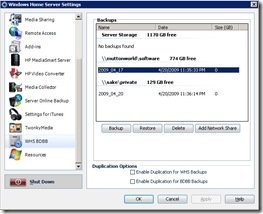 Also known as the Windows Home Server Backup Database-Backup, the add-in allows you to easily create and restore a backup of the Backup Database created by the Windows Home Server, which contains the backups of all Client PC's in the home.
Version 1.0.2.2 is primarily a maintenance release with only bug fixes and the following minor feature changes:
Redesigned method of drive detection for better accuracy
Really display TrueCrypt encrypted drives (I swear this works now!)
Disable Duplication Options for server with single Storage Hard Drive
Disallow backup to non-NTFS formatted drives (needed for 4GB files)
Properly handle network shares and usernames with spaces
Do syntax checking of network path format (\\server\share)
Store Readme in Software\Add-Ins share so user can access it
Improved error messages, including start and stop times in the Event Viewer Application logs
More information and the download are located here.
Share this WHS Article with Others: