Paul from S1Digital has been in touch to inform us of their recently announced Digital Entertainment Platform, which provides centralized archiving, storage and distribution of HD movies, live and recorded HD television, videos, music, photos and more and its all based on the Windows Home Server platform.

"The Digital Entertainment Platform is the most advanced digital entertainment offering on the market today," stated Paul Heitlinger, President of S1Digital. "Our solution is unique and we consider it a new category of product. No media server has been able to integrate this many different types of media, much less stream high-definition TV and movies."

The S1Digital Digital Entertainment Platform consists of three components: an Entertainment Server, Media Center clients and a control solution.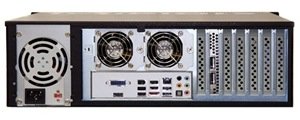 The heart of the Platform is the Entertainment Server which consumes and catalogs content from the built-in combo Blu-ray, DVD and CD drive, automatically downloading cover art and metadata. The Server supports 16 or 32 terabytes of protected storage in a 3U rack chassis, or 4 or 8 terabytes in a 1U chassis. In addition, the Server can stream live CableCard or ATSC HDTV to clients.
The Media Center clients play content stored on the server, streaming smooth 1080p video and 7.1 channel audio. Live and recorded HDTV can be streamed directly to the client, without needing TV tuners or a cable box directly attached. The custom designed chassis is small, quiet and can also playback Blu-rays, DVDs or CDs directly from the built-in optical drive.
An optional touch screen controller can manage the Media Centers from any room. It provides two-way control enabling browsing of content including cover-art and metadata and can integrate with existing control solutions from Crestron, AMX, RTI and other touch screen controllers.

The Digital Entertainment Platform can be purchased as a package supporting as many rooms as customers wish. The components can also be purchased separately so that users can add new zones or include existing S1Digital Media Center models or control solutions.

"Integrators will realize the many benefits of selling and installing the Digital Entertainment Platform," said Heitlinger. "There is no need for custom wiring back to the server or for bulky components in each room and the platform communicates over local network. In fact, there never has been such a powerful solution that's so simple to set up and use, yet the platform costs less than most other single use media server solutions."
More details are available from S1Digital.
UPDATE: Episode #220 of The Media Center Show has an interview with Paul Heitlinger from S1Digital who chats about their new range of products including the Windows Home Server based Digital Entertainment Platform – you can listen to it here.
Share this WHS Article with Others: