So you have built your own Windows Home Server, all is well. But you look with jealousy at how easy it is for HP MediaSmart or Tranquil PC SHA-5H owners to chop and change hard disks using their built-in hard disk caddies. Well covet no more, as Icy Dock has a multi-bay backplane module that can bring the same flexibility to your home built server as well.
The Icy Dock MB-454SPF is a straightforward device; it allows you to store four 3.5" SATA hard disks in the space normally occupied by three standard 5.25" devices. A lot of server PC cases will have four 3.5" slots, so with the right case you should still have ample room for the Icy Dock module without needing to sacrifice an optical device. The physical dimensions of the module are 15cm (W) x 12.5cm (H) and 22cm (D).
In the box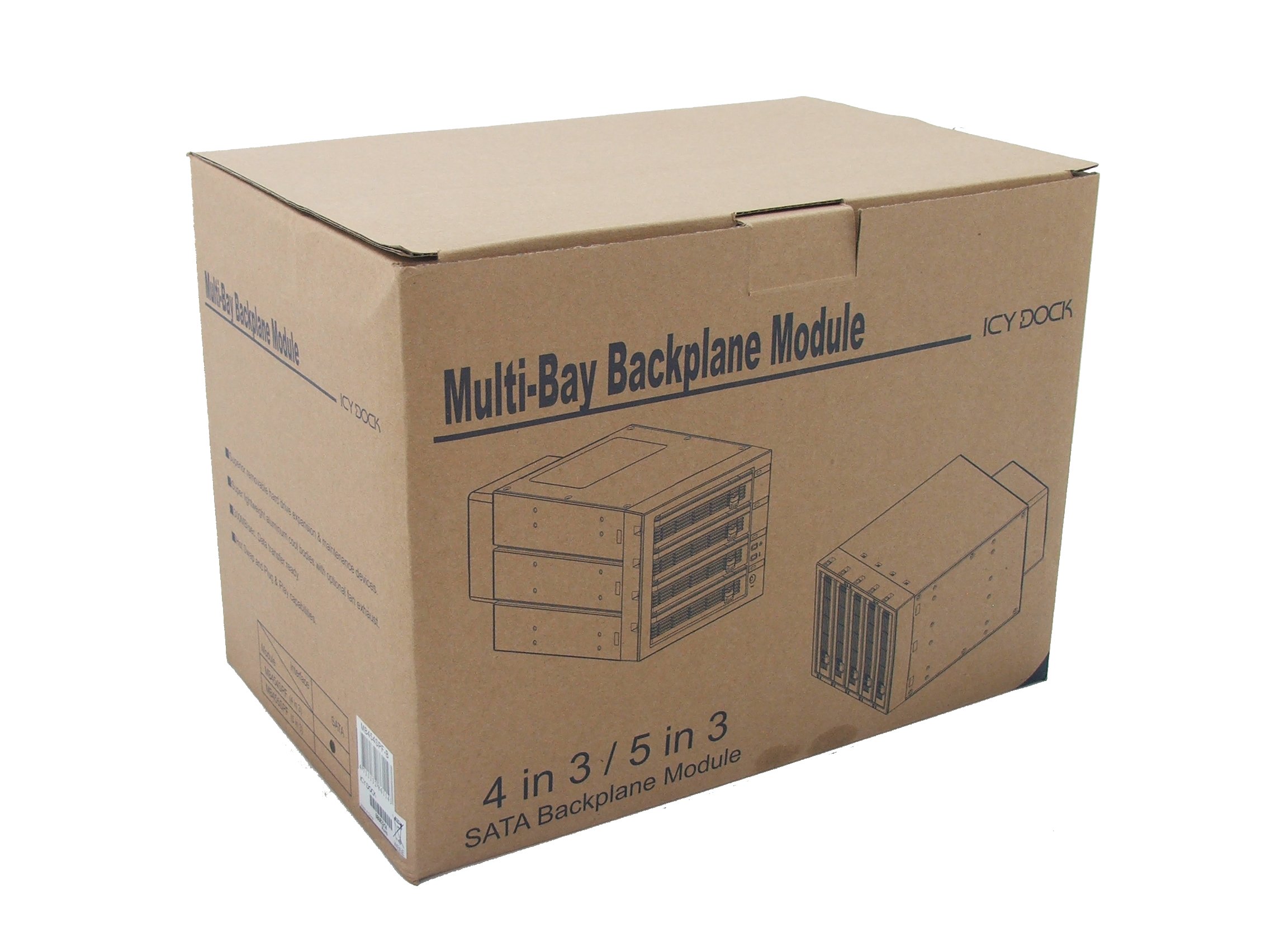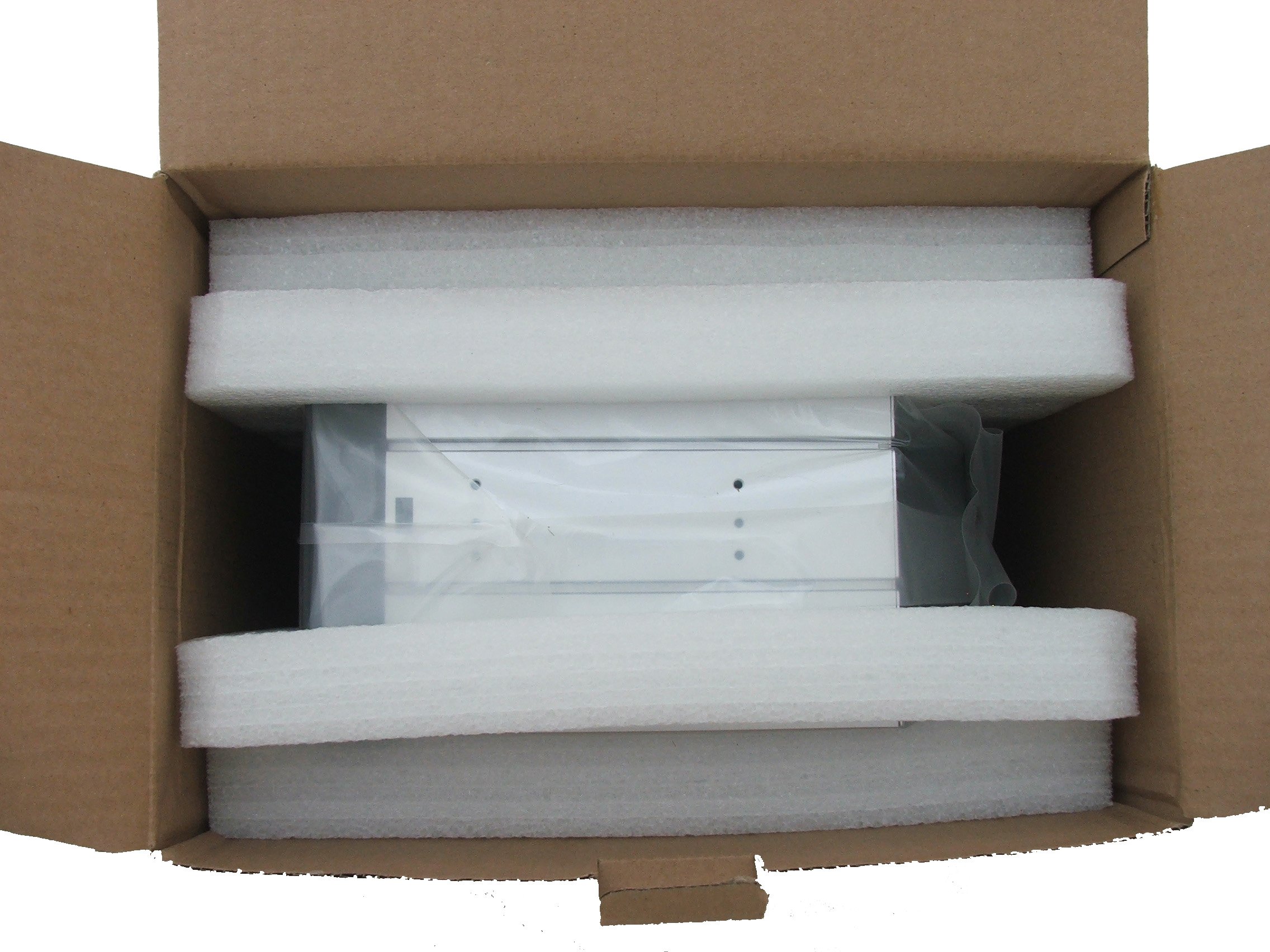 Safe and sound inside some tough foam packaging you will find the module itself, a bag of assorted screws and a manual.
General impressions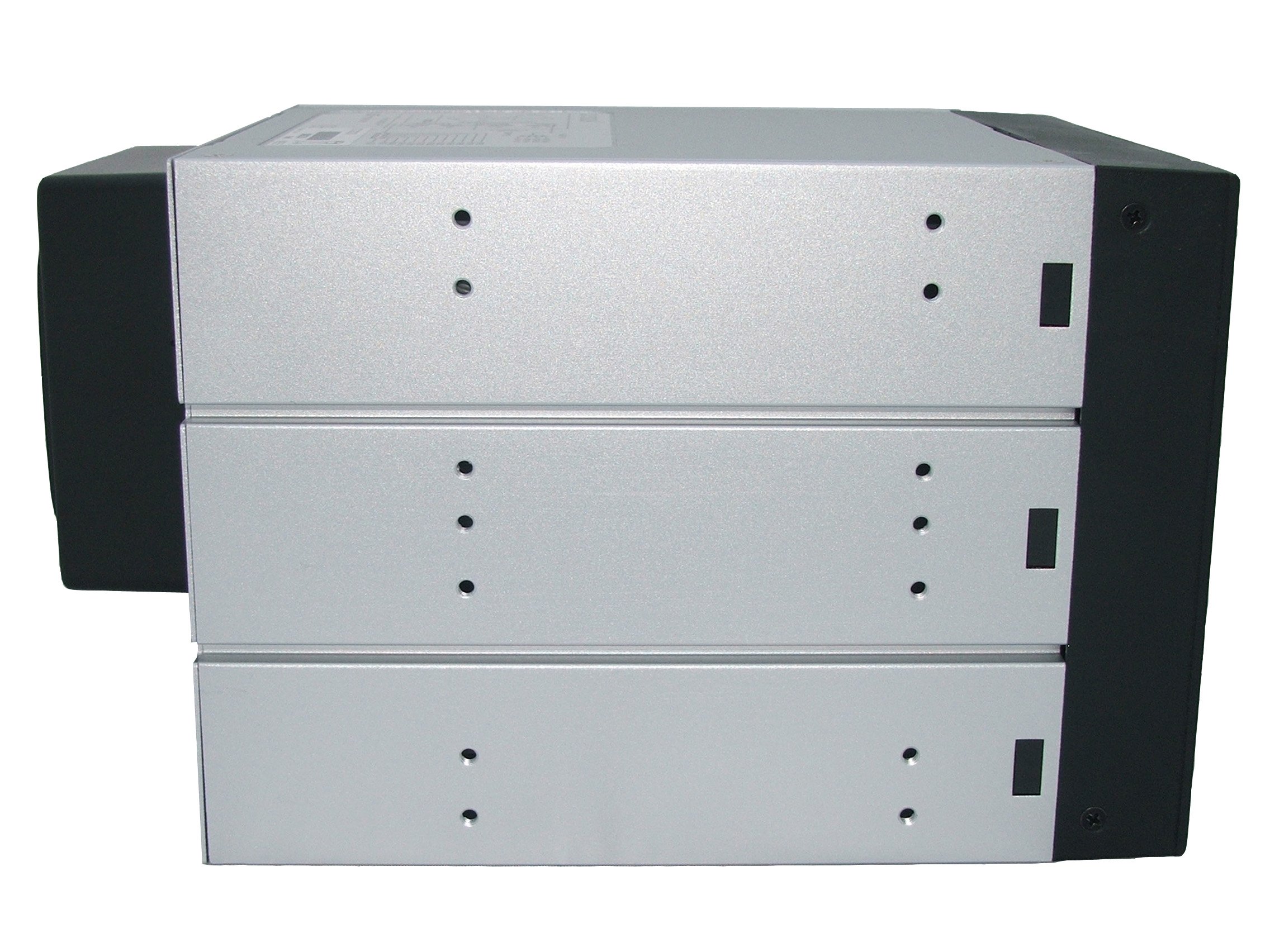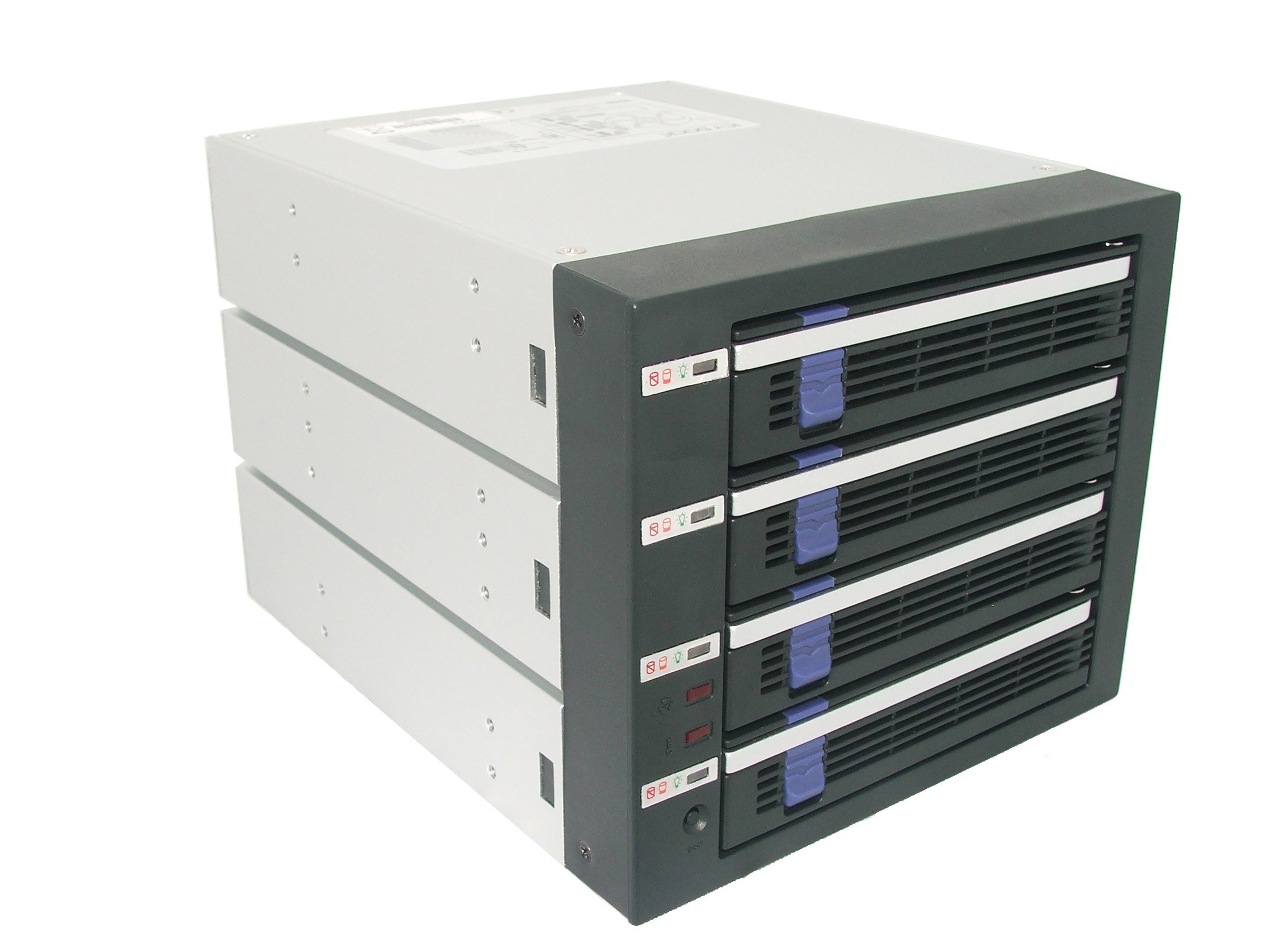 The module is constructed in aluminum and gives the feeling that this is a solid and dependable device. Plenty of thought seems to have gone into accommodating the module into differing designs of PC case, with different mounting positions being catered for by numerous screw holes. There are even a couple of deep guide-slots down each side of the module in case your PC case has any protruding ledges between its 3.5" device bays. A nice and perhaps essential touch if you want to maximize the number of PC cases this module will fit into.
Features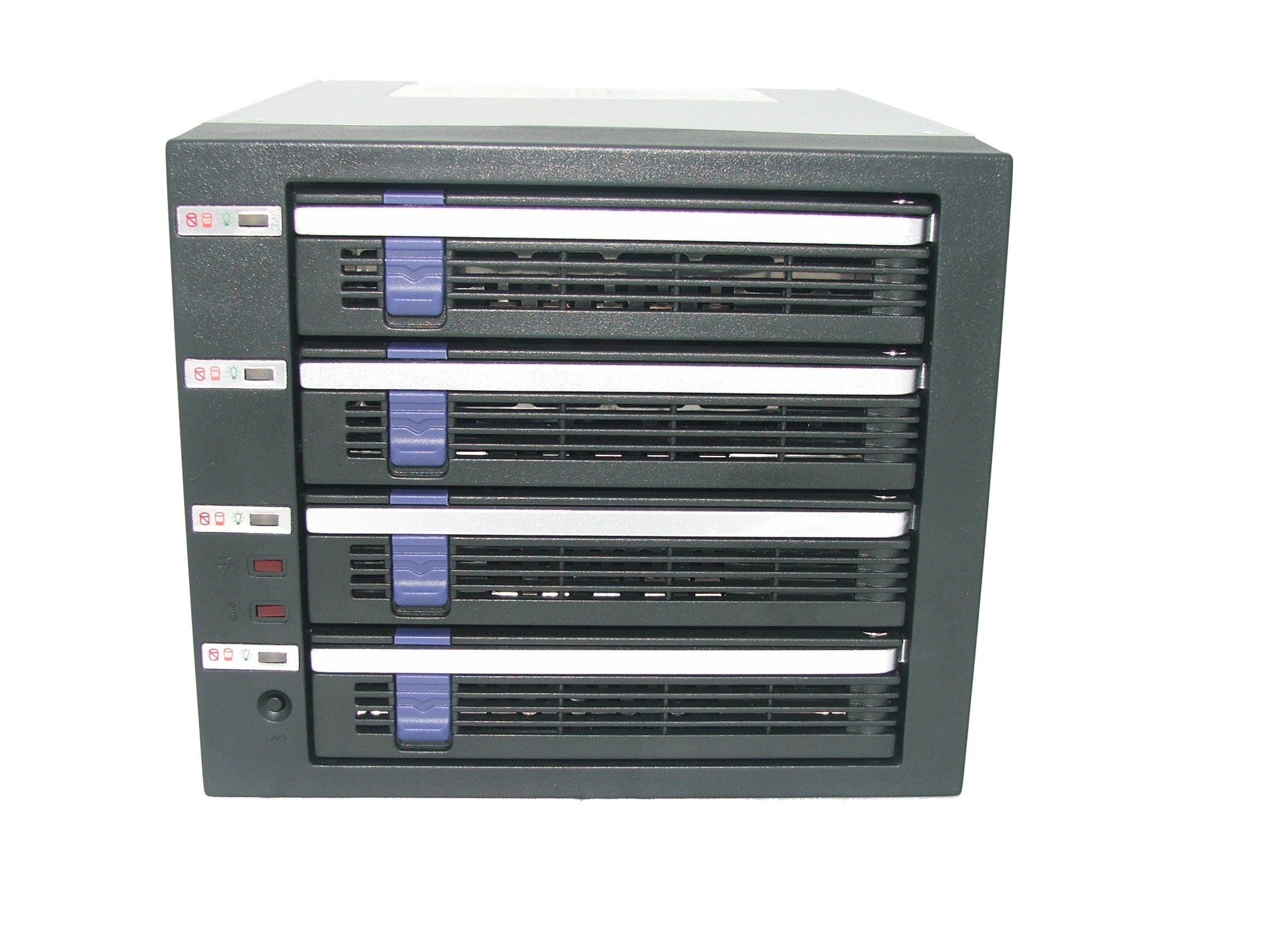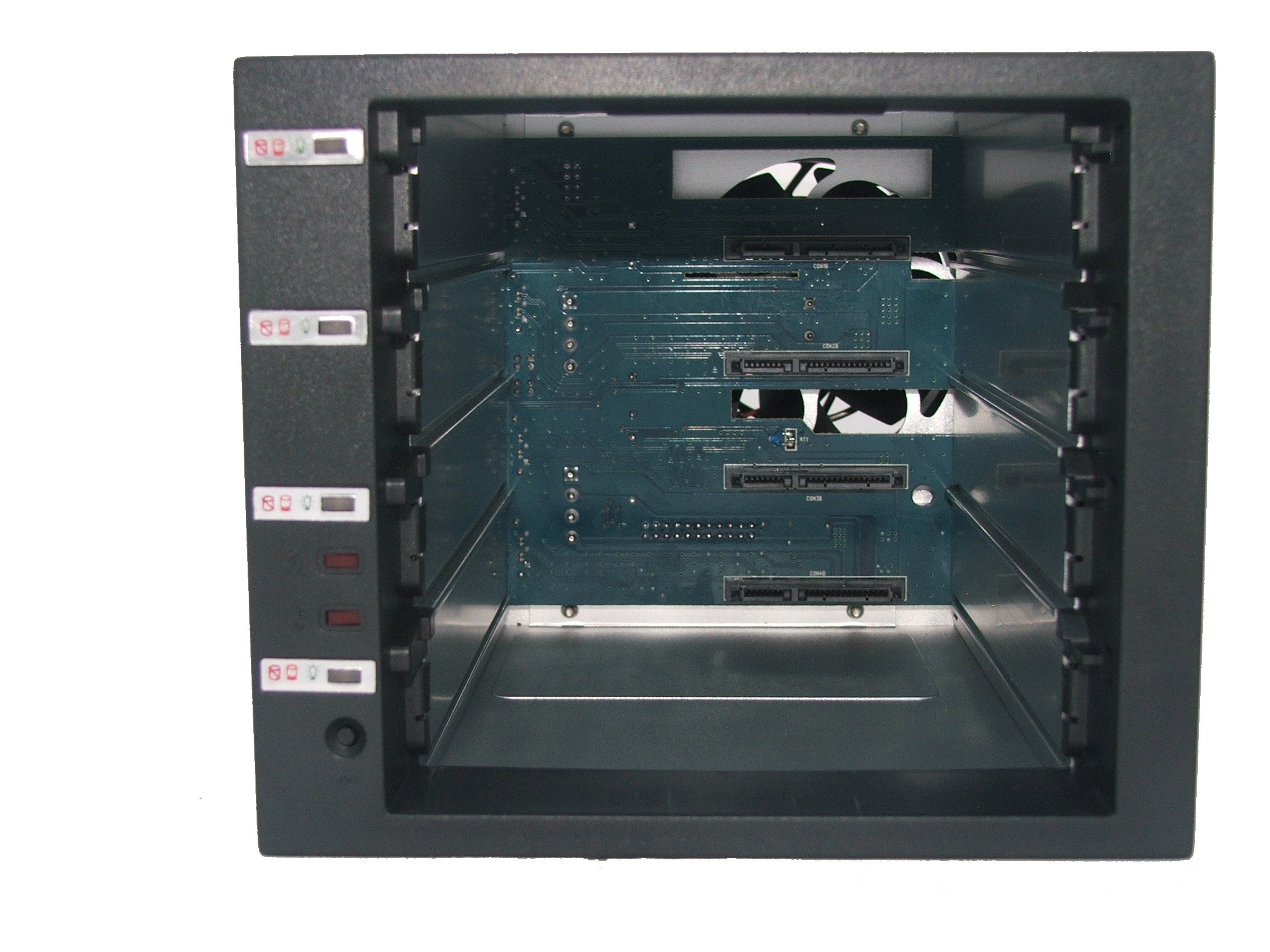 Each of the four drive bays has a single multicolor LED status light for power (green), activity (orange) and hard drive fail (red). It is worth noting however, that the hard disk fail indicator requires a compatible motherboard or RAID card to provide the error status via input pins on rear; the module will not recognize a hard drive failure by itself. Other LED status lights include a fan failure and overheat warning lights, with an alarm reset button rounding off the remaining interest on the front.
Connection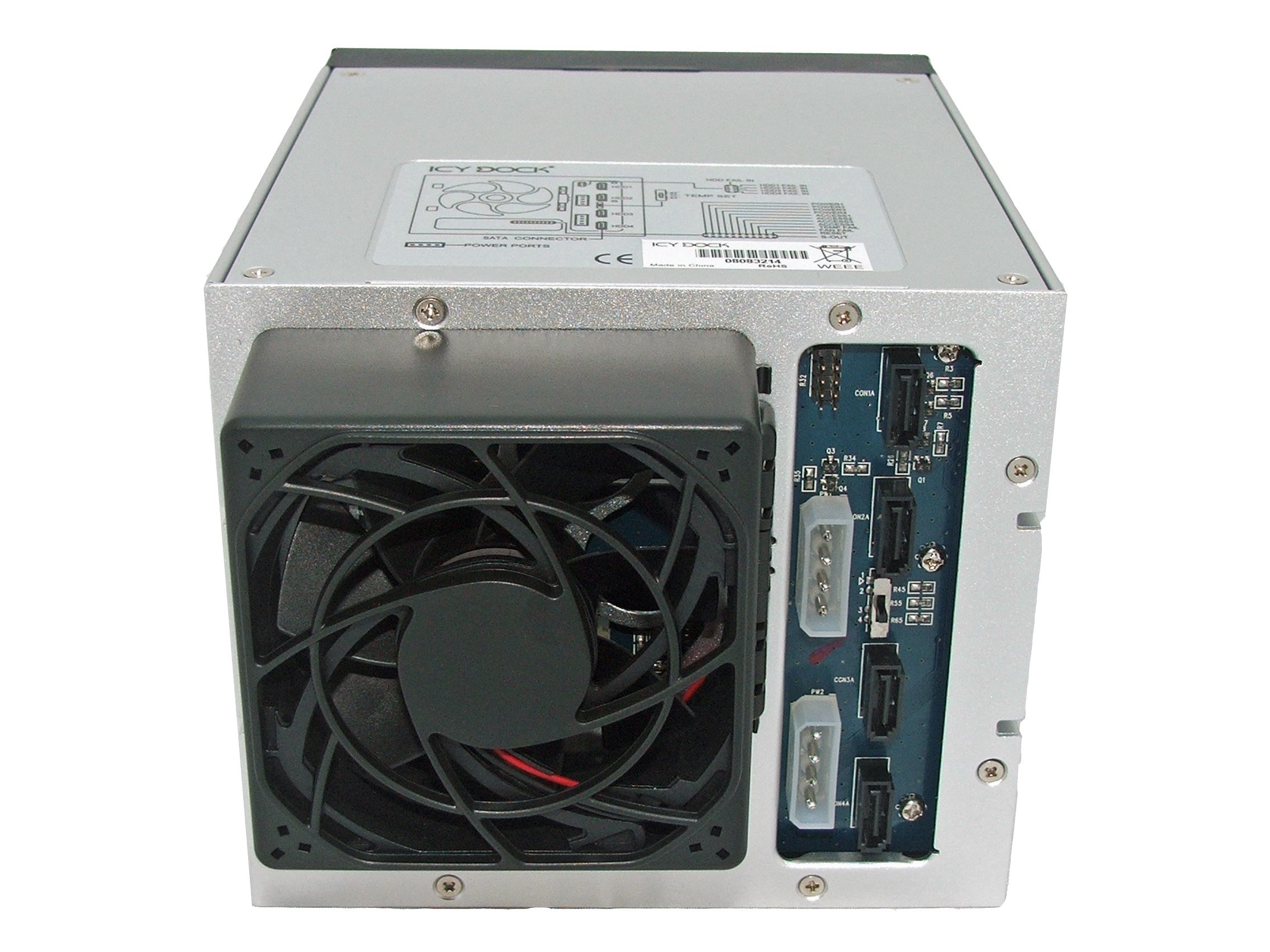 Around the back there are four SATA 3.0 Gb/s sockets for connecting the hard disks, and two Molex inputs to provide power for module and all of the disks. You will also find the afore mentioned hard disk fail input pins, and some output pins if you wish to duplicate all of the front panel LED's. Finally there is a switch to allow you to select one of three predetermined temperature settings which trip the warning LED and audible alarm should things get too warm inside.
Installation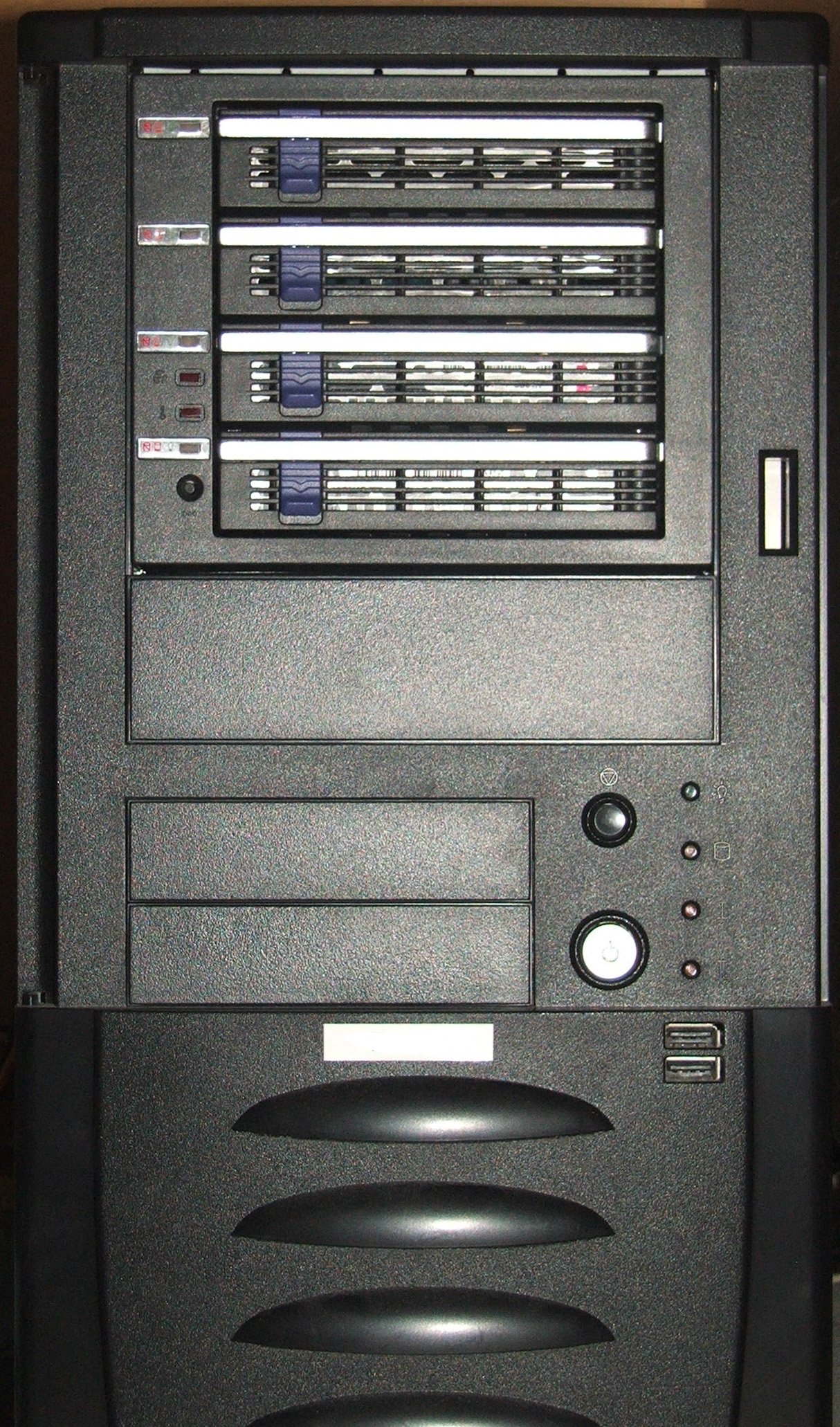 Installation is fairly straightforward business; we had no problems mounting the review module into an Antec case that uses tricky side mounted guide rails, so there shouldn't be too many mounting problems with less challenging PC cases. Once installed the module gives your server case a more professional or a less homemade look that perhaps it might have had before.
Hooking up the module to the PC is also easy. Icy Dock has helpfully located all the connections on the left hand side, so the ports are not blocked by the fan enclosure when the module is installed in the PC case.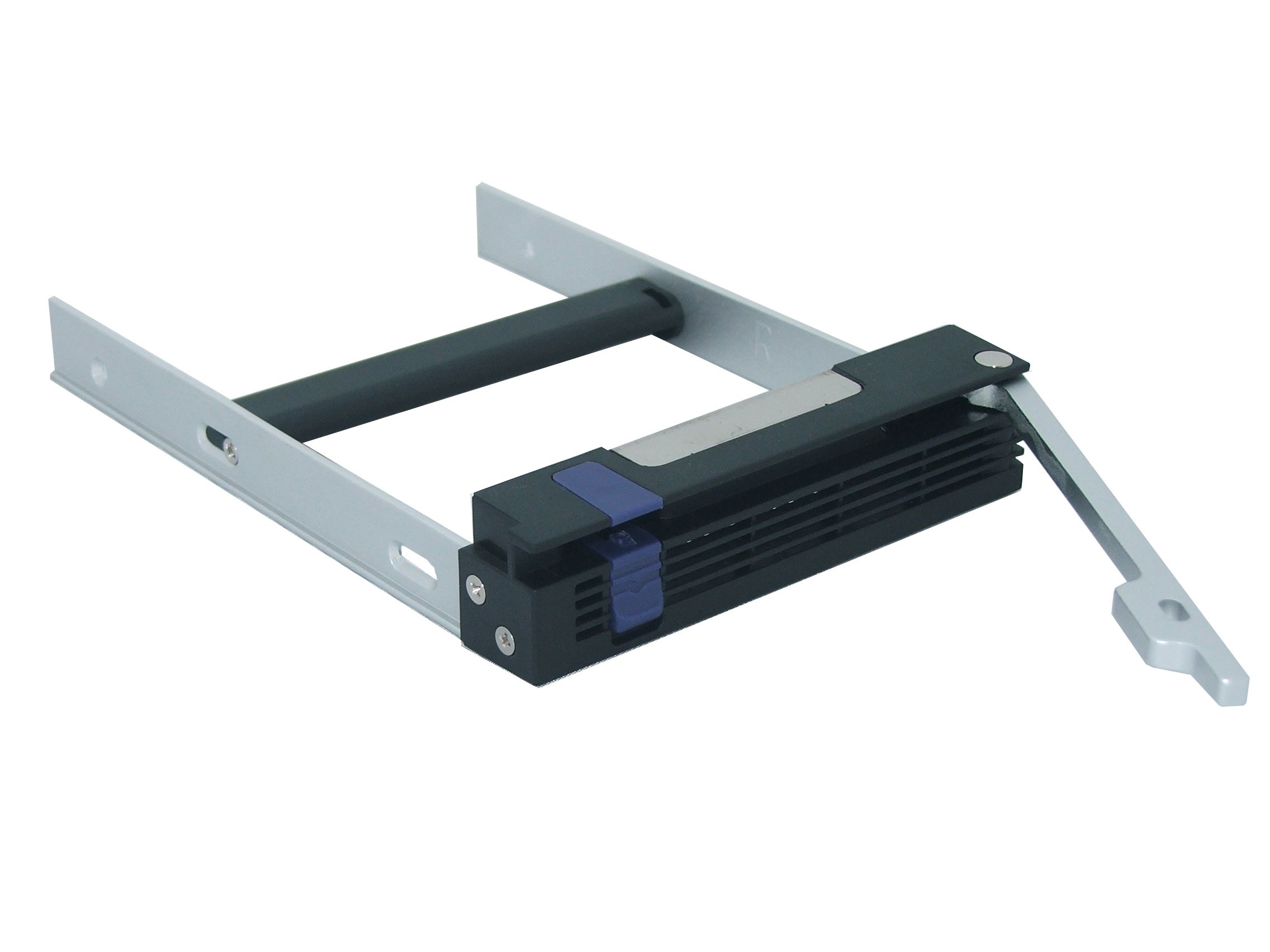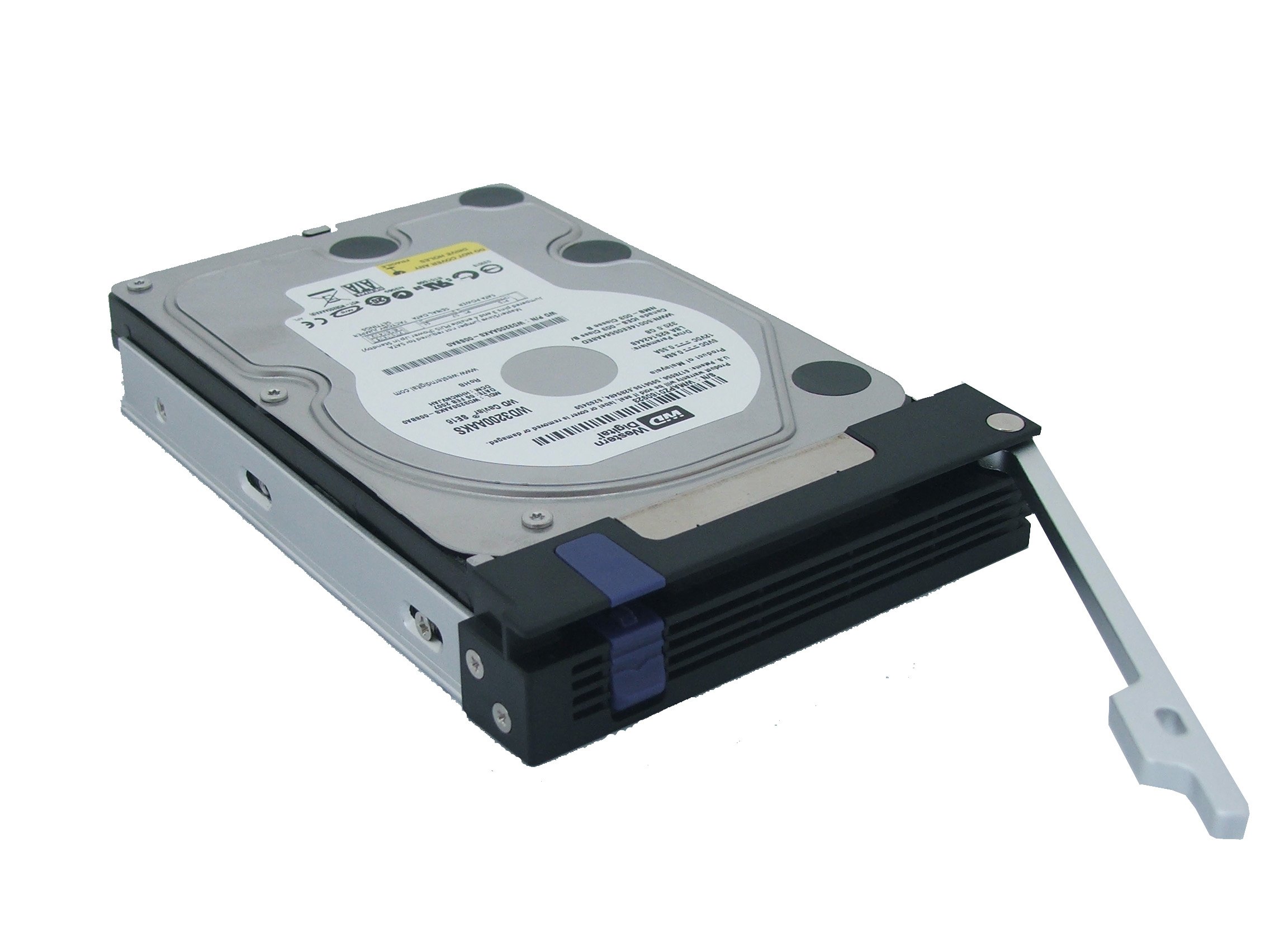 Installation of a hard disk into a caddy is uncomplicated, taking only four screws and about two minutes to do; although I can't help thinking a trayless system like the one used on the Drobo might have been a bit easier than having to mess around with fiddly screws.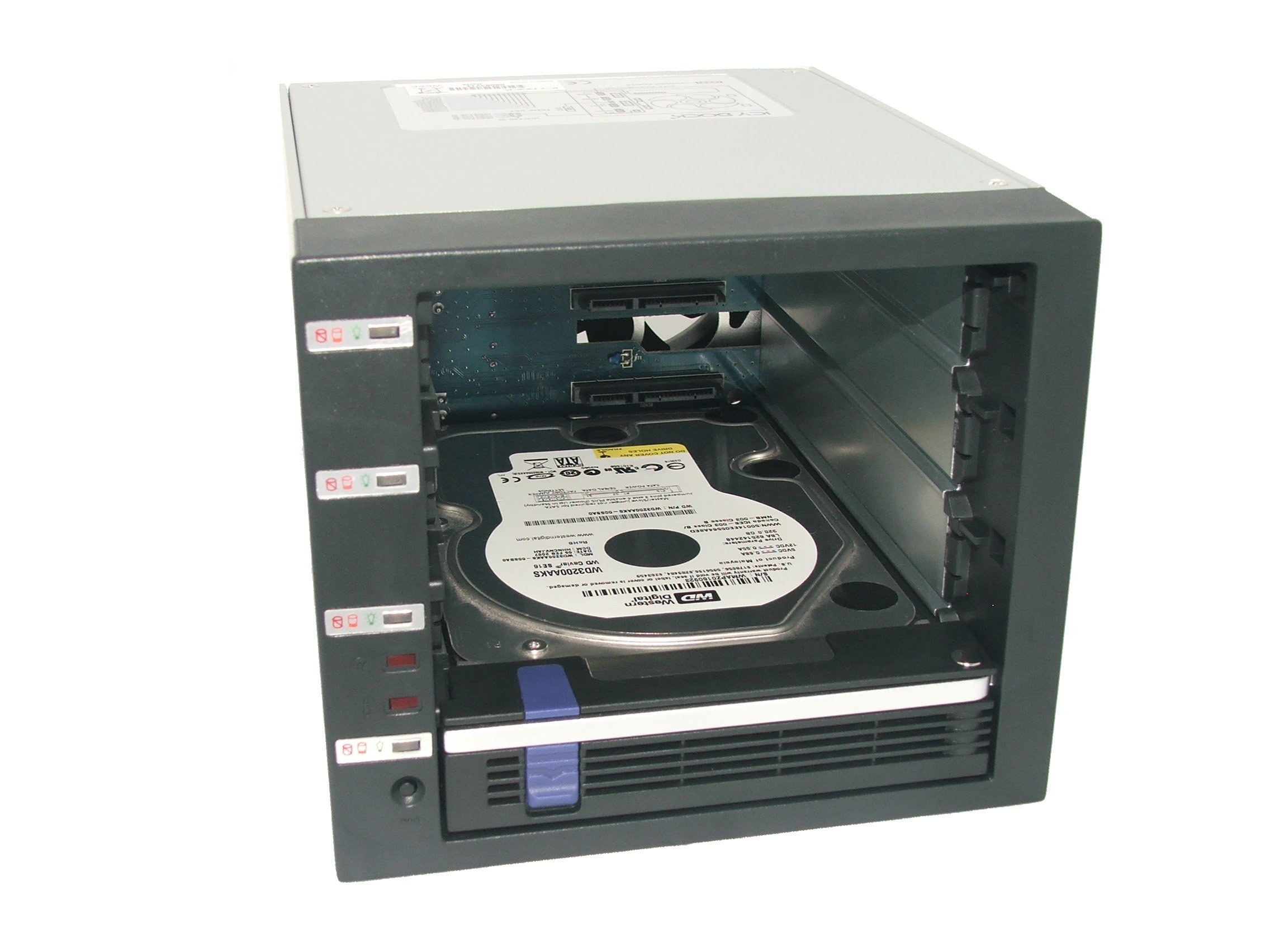 With a hard disk installed the caddy slides smoothly into the module, ready to be secured by the reassuringly solid locking bar mechanism. Removal requires a press down on the blue safety switch before the locking bar can eject the caddy from the module. This additional step should prevent unintentional removal should your server be within the reach of children's fingers.
Operation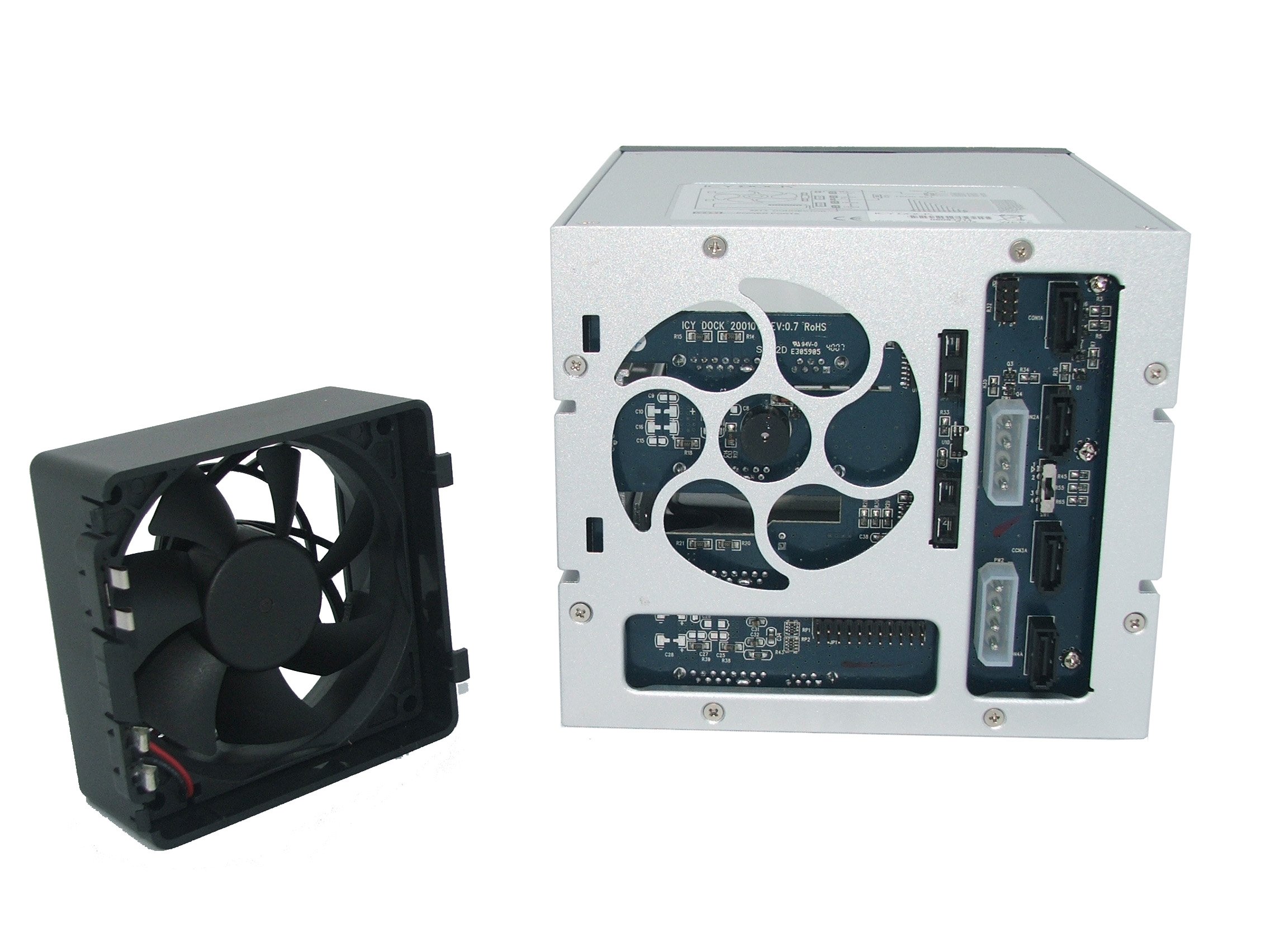 In operation, the MB-454SPF is quiet and unobtrusive, with its fan adding only a minor amount of extra noise to the server and negligible power consumption. Talking of the fan, it is easily replaceable in the event of failure or removable if you decide you don't need the extra cooling. It looks as if replacing a failed fan will involve some soldering as the fan enclosure has some hard wired power connections that will need removing.
Verdict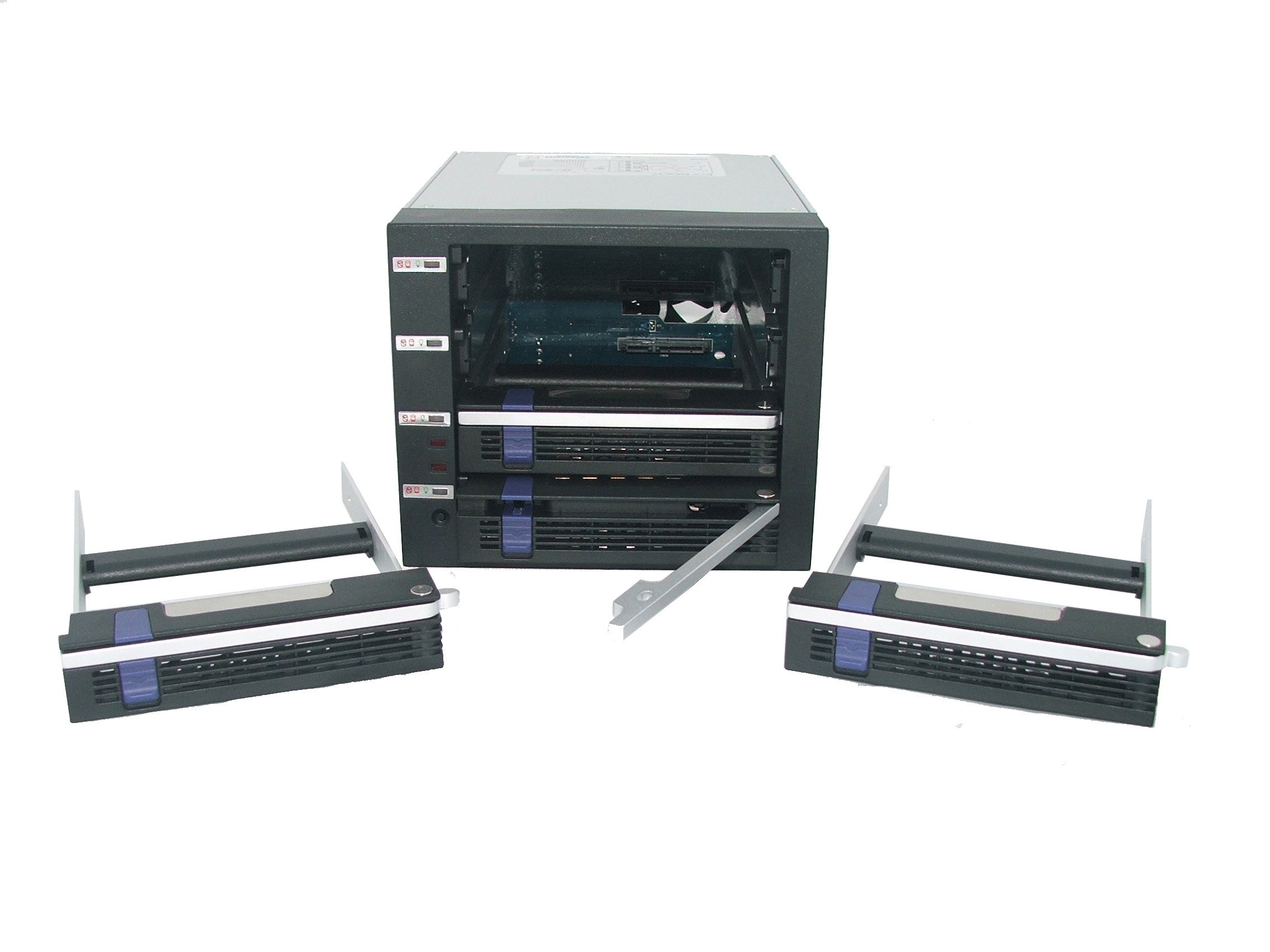 The question is do you need this? There are several potential reasons for using a module such as this:
adding extra storage in a server case that has reached its 3.5" bay capacity
useful for anybody who needs to change hard disks on regular basis
cosmetic enhancement to an existing server to show off its server credentials
As a purely cosmetic upgrade, this device represents poor value. A lot of PC server cases will already comfortably hold four hard disks internally with adequate cooling, and at a typical UK price of around £85 this is a
lot to pay for a bit or server case vanity.
However, if you have already fully maxed your server case with 3.5" hard disks, then paying £85 is much better value and considerably easier than buying a bigger case or four external USB hard drive holders should you need to add more hard disks.
Having the Icy Dock module in your server will also be of real benefit if you regularly need to change hard disks, either for upgrades or regular backups; and it makes the server look pretty good as an added bonus.
Prices at time of posting:
Share this WHS Article with Others: