The add-in Update History has been updated to version 0.2.1 Beta.
Update History displays the complete system update history so that Windows Home Server owners can make sure their machine is fully patched and up to date.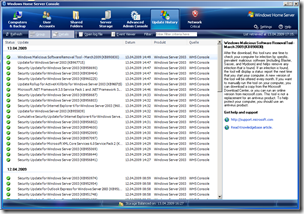 This release fixes an issue where the Windows Home Server console could crash when the add-in was trying to access the system's update history. A small UI glitch has also been fixed: In the initial release (0.2.0 Beta) the column headers were labeled in German, even on non-German WHS systems.
Available for download here.
Share this WHS Article with Others: