Fellow MVP and friend Donavon West has started to manufacture a unique Windows Home Server into a working cigar humidor which can hold a dozen of your finest cigars.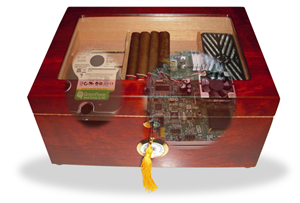 Called the Home Servidor, the top of the humidor holds the cigars whilst the bottom chamber contains a powerful yet "green powered" home server.
Donavon West added:
Why settle for an ugly grey box? I designed the Home Servidor for the person who wants more. The Home Servidor looks great on the desk of your home office. No one even suspects that there is a server hidden away inside.

Care should be taken to store cigars in a cool dry place. Most experts recommend a temperature of about 70 degrees Fahrenheit and a relative humidity of around 70%. With that, we have taken great measures to thermally isolate the cigar storage area of the Home Servidor from the warmer computer equipment below. The Home Servidor incorporates an air gap between the compartments as well as a special insulating foam strip that forms an air tight seal.
The handcrafted Home Servidor start at $799 and is available in both 1TB and 2TB models. Using Intel's Atom processor and "green" hard drives, both are energy efficient, a feature that is a must for an "always on" appliance such as a home server. A welcome side effect of these low power technologies is that very little heat is emitted, which is desirable for use in a humidor.
More information is available from here.
Share this WHS Article with Others: