The great add-in Advanced Admin Console (AAC) breaks when Internet Explorer 8 (ie8) is installed on Windows Home Server, and as of March 2009 ie8 is classed as a Critical Update and is automatically installed onto WHS.
So how do we correct this problem?
First of all AAC will crash when you click on an administrative item in the Advanced Admin Console, so the best way of fixing this is to not install ie8, but if it is already installed then you need to remote desktop into your Windows Home Server and from Start – Control Panel – Add or Remove Programs, scroll to the bottom and remove "Windows Internet Explorer 8".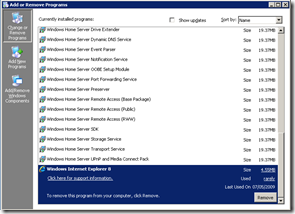 During this process it may complain about another ie8 update which will be uninstalled during the process. Just let it continue and restart the server when prompted.
Once this procedure is complete you will need to stop Windows Update from installing it again in the future, this is accomplished by going to Start – All Programs – Windows Update. Your Home Server may want you to install an update to continue, so just let it continue.  On the right hand side click  "Custom" and let it find the ie8 update again but this time unselect the install checkbox, expand the title by clicking the "+" box and select "Don't show this update again".

Voila – Problem solved – Windows Update will no longer find or install Internet Explorer 8.
Share this WHS Article with Others: