The Recorded TV Manager Add-in for Windows Home Server has been updated to build 3.7.6 and includes the following:
WTV File Support for Windows 7 and Vista Media Center with TV Pack.
Improved Console error handling – Certain unhandled exceptions in Version 3.4.3 could crash the Home Server Console.  These conditions have now been corrected.  You may, however, still receive an occasional error message in a Message Box which identifies the error condition which was handled, most likely a file access problem.
Improved stability in the AutoCopy Service – Certain conditions in the Version 3.4.3 AutoCopy service could cause the service to stop unexpectedly, which necessitated the AutoCopy Restart Service to compensate and start the service back up.  These issues have been removed and the Restart Service is no longer necessary.
Improved Installer – Fixes the uninstall issue and a few other small Installer issues.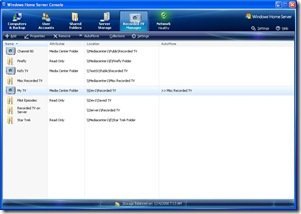 This is a FREE update for registered users of Recorded TV Manager Add-in for Windows Home Server.  To obtain a download link for Build 3.7.6, send email to sales@fjdrasch.com and be sure to include the Name and email address under which you purchased the software, and the PayPal transaction code if you have it.
Important: If you update to Build 3.7.6, you must first uninstall Build 3.4.3.  There is a serious problem with the Build 3.4.3 uninstaller which is discussed here.
More details are in the release notes whilst more information about Recorded TV Manager is available from here.
Share this WHS Article with Others: