Over the last few days iv been at a summit in Seattle for Microsofts Most Valuable Professionals (MVPs) as well as being on the Microsoft Campus in Redmond where iv been hanging out with the Windows Home Server Team and my fellow WHS MVPs (Nice to see you guys!).
The good news is that the next two versions of Windows Home Server are going to make those who only use another brands of NAS green with envy.
Unfortunately due to non disclosure agreements (NDA) I cant let you know just yet what is coming up but it wont be long until i can spill the beans to you.
But what i can share is that on the last day of the summit during a Keynote speech by Steve Ballmer, the CEO of Microsoft Corporation, Donavon West of Home Server Hacks planted a WHS sticker on Steve's forehead before Steve decided to stick it on his arm instead.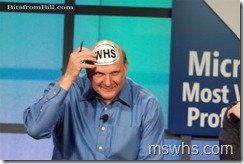 Well done Donavon, nice to have Windows Home Server publicized within Microsoft and to fellow MVP's from various categories in the audience.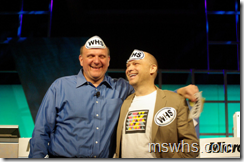 Many thanks to Susan Bradley for the links to the pics.
Share this WHS Article with Others: