The add-in which integrates a single installation of Microsoft Outlook to be shared by up to 10 different client PC's via the Windows Home Server Console application has a new version.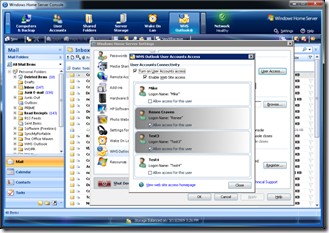 WHS Outlook beta version 1.0.4.34 is identical to the current release build except it now adds in new multiple user access and web interface features that take place via a Remote Desktop connection to the WHS Console application. The program takes care of all the setup details for you behind the scenes like building the web page, configuring your UPnP router, etc.
Download WHS Outlook Version 1.0.4.34 (Beta)
More information on WHS Outlook is available from here.
Share this WHS Article with Others: