The Windows Home Server 100 is another small form factor home-based server, this time from CyberPower Inc. a manufacturer of custom gaming machines and high performance workstations.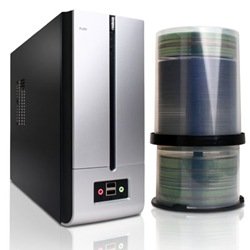 The unit features a Intel energy-saving ATOM 330 Dual Core CPU (45nm, FSB 533MHz, 1.6GHz, 1 MB L2) on a Intel Mini-ITX mainboard with Gigabit Ethernet, a 500GB SATA-II hard drive, 2GBs of PC2-4200 DDR2-533 memory complete with Windows Home Server. List price of this configuration is $399
The CyberPower Windows Home Server 100 is available direct from CyberPower and can be customized from the company web site with numerous component options. The CyberPower computer system comes with a 3-year limited warranty and free lifetime labor and phone support.
More details are available from here.
Share this WHS Article with Others: