The add-in AutoExit 2008 has been updated to R2, the final release.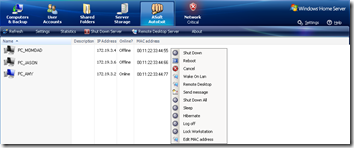 The new version 2.0.1170 has some small fixes with regards to the Release Candidate:
Removed popup dialog when sending a Wake On Lan message.
Fixed issue with the help file not showing.
Some small changes to documentation.
Fixed issue in installer that could make some other addins not work.
** Before installing **
Have a look on the WHS at the installed addins, if your version is lower than 2.0.1161 then read on.
An issue was found that exists in all versions of AutoExit since version 1. This issue occurs on certain configurations and can make some addins not
work, when uninstalling AutoExit.
To avoid this problem, follow this simple procedure:
– Go to the folder 'c:\program files\windows home server' on the server and make a copy of the file: homeserver.dll.
– Uninstall the AutoExit that is currently installed.
– Now place back the copy of the file homeserver.dll.
– Start the console and install the new version.
More info is available from here.
Share this WHS Article with Others: