New hardware partners for Windows Home Server has been announced at the Consumer Electronic Show in Las Vegas where the latest consumer electronic products are shown to the public. At the Microsoft booth at the convention center are 2 large displays with new hardware from Acer, Shuttle and VIA alongside the existing "Squash" SQA-5H from Tranquil PC and the newly announced MediaSmart Server's from HP.
Acer will be entering the market with the Aspire Easy Store Home Server, powered by Windows Home Server.
The unit is equipped with a Intel Atom 230 Processor and has a maximum storage capacity of 4TB and space for up to four 3.5" internal hot-swappable SATA hard disk drives.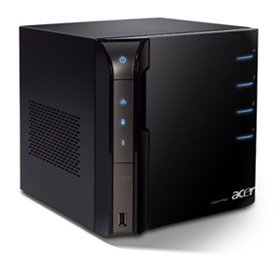 The model shown (TS.R360W.011) will come with 1x1GB DDR2 800 memory and 1x640GB HDD and also comes with a 6-month free trial of McAfee Total Protection Service, although other 1 drive and 2 drive models will be released including one with 2 x 640GB hard drives for the Japanese, European and Taiwan markets. The Acer Aspire Easy Store Home Server is expected to hit retail in March.
The Acer Aspire Easy Store Home Server will also include add-ins to:
Save energy by scheduling standby and resume times for the server, by using the Lights Out add-in.
A DLNA complaint media streaming server similar to TwonkyMedia Server.
A "One-touch USB copy" button will upload data on a device connected to the front-loading USB port; the data is automatically sorted and stored by file type into designated folders.
Shuttle famous for their small form factor (SFF) PCs have 2 models which will be available from the 1st quarter of this year in the US.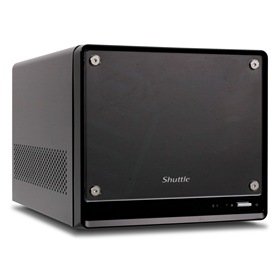 The SH-K4500 has 2 hard drive bays and the SH-K4800 which has 3 bays. Both are powered by the Intel Celeron 450 and come with 1GB of RAM. Both models will also come with 1 x 500GB hard drive and will cost $450 and $499 respectively. Both models will be sold online at retailers like New Egg.
Via who is a pioneer in low power, high performance chipsets have 2 models in their lineup.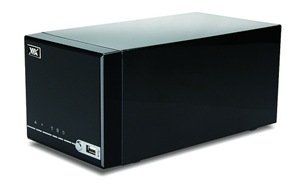 The 2 drive bay ARTiGO A2000 which is powered by the Via C7 and the NSD-7800 which can hold up to 8 hard drives, again powered by the Via C7.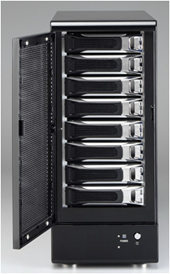 Both units are available in the US, Europe and Asia.
Share this WHS Article with Others: