Over at MediaSmarthome.com Peter Red hooked up his Mac to the new MediaSmart Server to show us what it can do.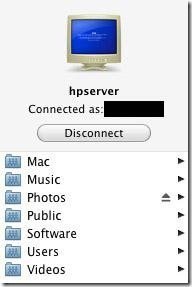 Read about it here.
**************************************
Also Christopher Price left a comment on our blog yesterday regarding the "Restore System from Backup" feature of Time Machine not being implemented for Mac users.
Chris states that:
"What that means is, while you can restore individual files that were accidentally deleted… you cannot recover a Mac from a catastrophic failure (won't boot, lost, stolen, damaged, defective, etc)."
But there are workarounds and Chris tells us what they are in his post HP MediaSmart Now Does Time Machine, Well… not all of it. But, I can fix it.
Share this WHS Article with Others: