A new public version of My Movies for Windows Home Server has been released.
Build 4 of pre-release version 1.02 has the following additions:
Added: Automatic database backup feature. Automatically runs backup during the night with the internal you choose, and lets you choose how many backups to keep.
Added: Ability to use non WHS based shares and part of a share for copy target and monitoring.
Added: Support for Flac lossless music codec for Music Disc Copier.
Added: Option to reject disc if no meta-data is found for Movie Disc Copier. This allows you to use a client to contribute disc id's for unknown discs, and then re-insert the disc to be copied with proper meta-data.
Added: Ability for movie disc copier to copy to Media Center extender compatible MPEG2 format, either as only file, or as combination of VIDEO_TS folder structure and MPEG2 file.
The following change has been implemented:
Now asks to set services to manual startup when you stop them, to avoid them from restarting after a reboot.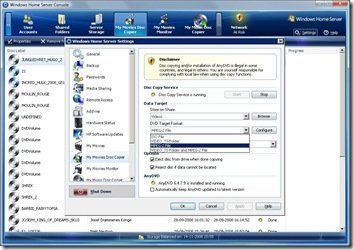 Also in this version are the following fixes:
Fix: Runs optimize and clean of unused covers, photos and temp files before running a backup.
Fix: Movie disc can some times be rejected if it has been previously copied, even though the file no longer exists.
Fix: Notifications can pop up again and again. Notifications is now removed after a specific time period, depending on their importance.
Fix: Movie disc copier can fail to copy discs if the disc name in the meta-data contains special characters.
Fix: Firewall configuration issues can occur on some newer version HP Home Servers.
Fix: SQL Server install could error out if firewall configuration fails.
Fix: Clean photos on database backup
Fix: Percentage only goes to 99 percent and not 100 until the task is fully complete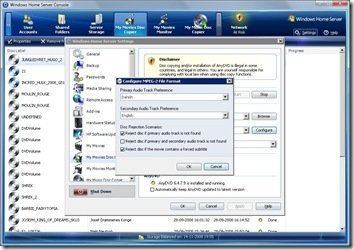 More information is available from here. This pre-release version of My Movies for Windows Home Server is available for download from here.
Share this WHS Article with Others: