UK based Tranquil PC have been in contact with us to announce their latest offering, the SQA-5H Home Server.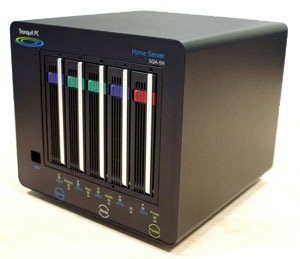 The multi-drive server comes with the latest 64 bit ready Intel Atom Dual Core processor (Intel Atom 330 – 2×1.6GHz) and 1GB of memory (upgradable to 2GB) and supports five quick install 3.5" HDDs, 6 USB HDD ports, and an eSATA port, and if that is not enough, you can plug in the SQA-Ex, a slave unit – with a further five HDD bays.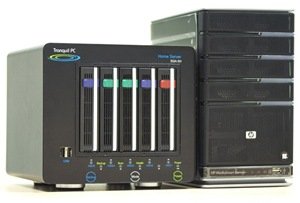 The SQA-5H offers ultra low power consumption (as little as 29W), a simple to use 'back up now' button and comes complete with a 3 year factory warranty.
The wife friendly cube design is near silent in operation due to The CPU and chipset being cooled without fans, whilst the HDD bay, is cooled by a slow speed controlled fan.
Available in 2 versions, the entry level SQA-5H-1000 Home Server comes fitted with 1GB memory and a single 500GB Green Power Hard disk for £399 ($692) whilst the performance based SQA-5H-2000 Home Server is fitted with 2GB memory and a single 1TB Green Power Hard disk for £499 ($865).
Also available is the SQA-Ex HDD extender which gives you an extra 5 HDD bays for £429 ($744), whilst a carrier for the SQA-5H HDDs is available for £44 ($76)each.
(All prices excluding UK VAT at 17.5%) To get 5% discount on your order (time limited offer) enter the following coupon code at checkout WGS-5WA12.
More information is available from Tranquil PC.
Share this WHS Article with Others: