This must be the mod of mods. A user by the name of "Diehard" has posted images of his MediaSmart Server modification, where he inserts the insides of a PopCorn Hour device (a Digital Media Streaming product designed for end-users, enthusiasts and professionals) into his server.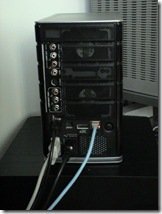 Modder "Diehard" stated:
I just have to finish the install. make a cable to connect the main board in the video connector. run a network cable for the popcorn out the back between the USB ports and the Esata. Power for the popcorn.

I loose the top drive bay but that's OK, 3TB plus the Esata is plenty.
More pics are available from here.
Share this WHS Article with Others: