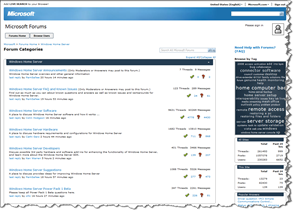 You may have noticed that over at the official Windows Home Server forums that the new forum platform is complete. This now provides increased performance, stability, and an improved user experience.
The new link is now http://forums.community.microsoft.com/en-US/tag/windowshomeserver/, whilst the old URL (http://forums.microsoft.com/WindowsHomeServer/default.aspx?siteid=50) will be redirected to the new one once a topic is chosen.
More information is available in the following post, and an FAQ on using the new forums is also available.
Share this WHS Article with Others: