Low-cost desktop computers or Nettop's are becoming more popular and can be a good choice for a DIY Windows Home Server build.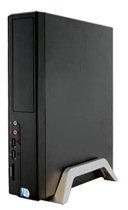 The MSI Wind PC (MS-6496-06S) is one beauty featuring an Atom 1.6GHz processor on board and space for up to 2GB of RAM. Although it only has one HDD drive bay the 2nd CD/DDD bay could easily be converted with drive rails to accept a second drive and with 6 USB2 connectors, external drives can also be connected.
The barebone Wind PC can be stood vertically or laid down horizontally, due to it's small size (65mm x 240mm x 300mm) and consumes less than 40W of power at full-speed operation.
With low acoustics and complete with integrated graphics and Gigabit LAN this Nettop is available for $150 in the US and £123 across the pond in the UK.
More information is available here.
Share this WHS Article with Others: