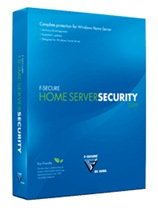 F-Secure's 2009 consumer lineup was officially launched on the 3rd September (2008) and included Home Server Security 2009. Especially designed for Windows Home Server it protects your server in real time from virus's, spyware and other forms of malware. Accessible from within the Console it updates automatically keeping Home Server Security 2009 fully protected against new, fast-spreading viruses.
F-Secure state that great emphasis has been placed on keeping the impact that the included automatic scanning has on the performance of your data and processor to a minimum.
One Home Server licence with protection for up to 3 PCs is available for the yearly price of $49.45 is the US, £39.95 in the UK and for €65.90 Euros. If  during the purchase process you close "Your Shopping Cart" web page, a popup will appear offering 10% off the regular price with a link to access it. 
F-Secure Online Wellbeing campaign and Home Server Security 2009 support page.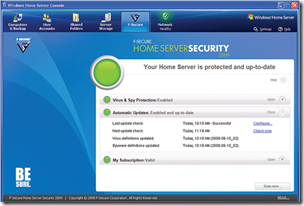 More information is available from here, here  and here. Note: This 3rd link offers a link to download a trial version which is currently NOT available.
Share this WHS Article with Others: