WHS Outlook is now available for public release with the Beta 2 version 1.0.2.26 now available for download.
The add-in integrates Microsoft Outlook with the Windows Home Server Console which allows the following benefits:
Allows a single installation of Microsoft Outlook to be shared by up to 10 different client PC's via the WHS Console.
By using the Remote Access features of WHS, you can even gain full access to all of your Microsoft Outlook e-mail, contacts, calendar, etc. from anywhere in the world that Internet access is available.
Works with Microsoft Outlook 2007, 2003 and 2002/XP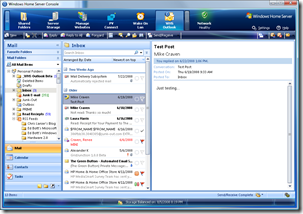 The add-in is priced at $24.95 for a single server licence and a 21 day trial version is available for download.
More information is available from the WHS Outlook HomePage.
Share this WHS Article with Others: