If your Windows Home Server is not made by HP then you have the boring plain "Shared Folders on Server" icon on the desktop. But how would you like to change it to the one that HP MediaSmart Server owners have, a picture of the MediaSmart Server itself. If you do, then your in luck because blogger Taimur Asad of redmondpie.com has packaged up the .ICO and .PNG versions of the icon into a zip package.
Once downloaded unzip and right-click on the "Shared Folders on Server" icon on the desktop and click "Properties". Click on the "Shortcut" tab and then the "Change Icon…" button. Click the "Browse…" button next to "Look for icons in this file" and navigate to the location where you unzipped the icon package you downloaded. The file you are after is "HP MediaSmart Server.ico". Once this is located you can click Open, OK and OK again to navigate out of all the open boxes.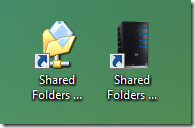 Before and after
Hey presto. A smarter, better looking Home server desktop icon.
The download package can be downloaded from here.
Share this WHS Article with Others: