Microsoft has added a Windows Home Server Power Pack 1 product support training course for free download (registration required) on their OEM Partner Center. The 1 hour course describes the changes introduced in WHS with PP1.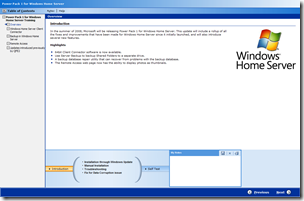 Modules:
Overview
Installation through Windows Update
Manual installation
Troubleshooting
Fix for data corruption issue
Windows Home Server Client Connector
64-bit connector for the Windows Vista operating system
Upgrading the Client Connector software
Video: Walk-through of the Client Connector upgrade
Video: Repeated prompts to upgrade Client Connector
Warning about mismatched time
Backup in Windows Home Server
Configuring a drive for Server Backup
Using the Server Backup function
Restoring data from a Server Backup
Waking the client computer from Sleep
Using the Backup Database Repair Wizard
Remote Access
Improvements to upload functionality
Download as self extracting .exe
Improvements to Remote Access diagnostics
New options for Remote Access permissions
Thumbnail view for photos
Updates Introduced Previously by QFE2
Remote access
Home computer backups
Fix for data corruption issue
More information is available from here.
Share this WHS Article with Others: