A new add-In called WHS Backup Database-Backup (WHSBDBB), allows you to backup the WHS Backup Database which stores all your client PC backups. This is a feature MS promised back at CES 2008 but unfortunately it did not make it to Power Pack 1 PP1. Author Alex Kuretz has basically automated the manual steps defined in the WHS Backup documentation.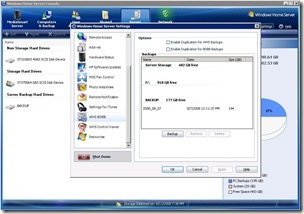 Features:
Enable duplication for the WHS computer backup database
Enable duplication of Backups created by BDBB stored in Server Storage
Backup the WHS Backup Database to an Application Folder within the WHS
server storage, a WHS Backup drive, or another drive connected to the server
Restore backups created by BDBB
Known Issues:
Canceling a backup can take a while (several minutes), as the copy of the
current 4GB chunk must complete before the cancel can be completed.
Your server is under a heavy load during this process, and so may have
decreased performance for streaming, slow Console response, etc.
While relatively simple in design and application, this software has not been
tested very extensively, so please report bugs and feedback!
English is currently the only supported language, though this add-in should
install and work correctly on non-English versions of WHS.
More information is available from MediaSmartServer.net
Share this WHS Article with Others: