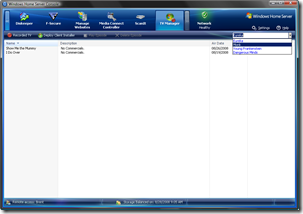 Finally out of beta, TV Manager 1.0 is now available for download. The add-in lets you move your recordings to your Windows Home Server for management and storage. With the biggest feature, being the ability to watch your recordings in Media Center as if they were sitting in your Media Center record path.
You can delete recordings from the Windows Home Server Console or by using Media Center and you can also play the recordings on non-Media Center PCs using the Windows Home Server Console or Windows Explorer.
Changes Since The Last Beta:
Fix: TV Manager Service setting permissions.
Fix: Compatibility with limited user accounts.
Fix: Launch recordings straight from the Windows Home Server Console.
Fix: Changed how recordings were moved (to fix ghost file issue) but lost the ability to monitor progress percentage.
New: Added Media Center Extender compatibility.
New: TV Manager Add-In interface redone.
New: Experimental ComSkip feature (disabled by default)
New: Regenerate the Xml in case of cache corruption without tester.exe.
Small things were changed and fixed.
The add-in and a help file are available for download from here.
Share this WHS Article with Others: