Computer Shopper has tested the Hi-Grade Home-serv 2000 and have given it a dismal 2 out of 5 stars.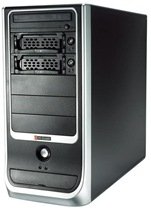 Why just 2 stars?
Size, too big as it is the same size as a standard midi-tower PC, noise. It's noisy being one of the loudest computers Computer Shopper had tested and file transfers were very sluggish at copying large files and remarkably slow at transferring small files.
You can read the full review here.
Share this WHS Article with Others: