Sam Wood has updated his add-in, Windows Home Server Disk Management to version 1.0.8.6 which fixes a crash if removing the last internal drive bay and external drive bays still remain. The user is now prompted to remove external drive bays first.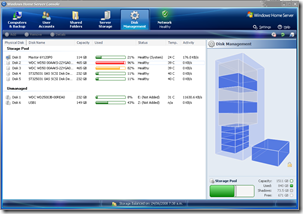 This Add-In provides more detail about your server's storage status than what the standard WHS Server Storage interface provides.
Features:
Detailed information for each disk in your Windows Home Server
Real-time temperature and activity monitoring
Capacity indicators for individual disks
Customizable disk names
Customizable 3D wireframe representation of your server
More details are available from here.
Share this WHS Article with Others: