Add-in developer Brent Friedman has a new add-in for Media Center users. TV Manager copies your recordings off to your WHS for storage and management. It comes in two parts. The first part is installed on the server for management of the Recordings. And the other part is the Vista Media Center plug-in that copies new recordings over to the WHS deleting the original. It also allows you to watch the recordings like you normally would via "recorded tv" on Media Center.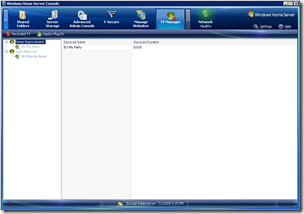 Features:
Moves the recordings to your WHS for storage, management, and later viewing.
Allows you to watch the recordings in Media Center as if they were on that PC's library.
You can delete recordings via Media Center or the Console.
You can even watch the recordings in other media programs (that support dvr-ms) via 'C:\Users\Public\Windows Home Server\'
It is and always will be Freeware.
More information is available from Brent's Blog.
Share this WHS Article with Others: