illustrate the people behind the dBpoweramp software are making the transition from a software only company to one which offers software & hardware. Their first new product is RipNAS: dBpoweramp Ripper + NAS + Windows Home Server
When tasked with building a ripping appliance, high design goals were set, resulting in:
dBpoweramp CD Ripper: securest of the secure
Case: winner of Intel's SFF design contest
PerfectMeta™: using 4 metadata providers: AMG, GD3, MusicBrainz and freedb simultaneously
Laptop 2.5″ hard drive(s): 3.5″ drives are too noisy for the living room!
Windows Home Server
Streamable to uPnP, DAAP (iTunes) and SqueezeCenter (Slim Devices)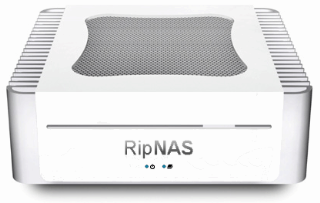 What it Does
CDs are loaded one at a time into the slot loading CD drive, RipNAS retrieves the highest quality metadata through PerfectMeta (being headless means no user overview of metadata, PerfectMeta was designed for hands off Metadata retrieval), and ripping takes place to a lossless format. When completed the CD is ejected and audio is shared over the network, ready to be shared and streamed to one of the many network audio players (Sonos, Slim Devices, etc). Quality is assured through the use of AccurateRip.
If ripping in secure mode, any in-secure tracks are separated out to highlight them as having errors.
And of course having Windows Home Server onboard, RipNAS can backup and be used as a data store.
Audio Formats Supported
It is clear the audio world is split into different camps, depending upon which devices are being used on the Network, these 4 main modes are configured with 'command CDs', allowing configuration changes with out the need to connect a computer to the RipNAS:
FLAC: main choice and supported by most network audio players,
Apple Lossless: first choice for any Apple based player,
Windows Media Audio Lossless: Microsoft based players (XBox 360)
mp3: devices with no lossless audio support
The RipNAS is due to be available from early august as two models:
RipNAS Secure: features as above, in 320GB, 640GB and 1TB models. Optionally the 640GB and 1TB models will offer RAID 1 mirroring across 2 drives (actual storage space available will be 320GB and 500GB). Pricing is expected to start from $999++
RipNAS Value: the value series will use a different case, be active cooled and traditional 3.5″ drives in 500GB and 1TB models. Ripping will not include a secure mode. Pricing++ will be competitive with the HP Media Smart in consideration of the addition of Ripping abilities
More information is available in the following forums at illustrate.
Share this WHS Article with Others: