The Windows Home Server Disk Management Add-In may have compatibility issues with Power Pack 1 (PP1). The Windows Home Server partner team is working with the add-in author to identify and resolve the potential compatibility issue.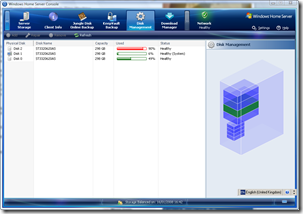 In the meantime it is advised that you refrain from using this add-in in conjunction with Power Pack 1.
UPDATE: For those of you enquiring what the compatibility issue is: When using the Disk Management Add-in to "remove" or "rename" a disk, the drive no longer shows up in storage. Since this can have a severe impact on a Home Server we wanted to let people know as soon as possible.
Share this WHS Article with Others: