Mini ITX motherboards are the ones that come with low energy CPU's onboard from the likes the VIA. Intel joined the band wagon last year with the D201 mainboard comprising the SIS chipset, which came complete with a 1.2Ghz Celeron CPU. This year Intel introduced the Atom CPU with its HT technology, ultra low energy and state of the art performance.
As why this info? Well, Tranquil PC will be shipping an Atom powered mainboard known as the Intel D945GCLF. This Mini ITX board comes complete with a 1.6GHz Atom 230 CPU, with 512K of L2 cache, based on Intel's latest low power (TDP = 4W) 45nM process.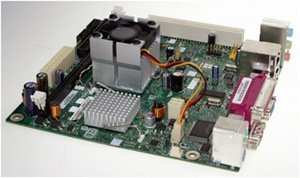 The onboard chipset is the Intel 945GC + ICH7 and Intel high definition audio, 10/100 LAN, PCI, SATA2 (3GB/s) DDR2 533/667 are all included as well.
So for your next Windows Home Server build project or upgrade check the Intel D945GCLF mainboard, and get a huge performance boost (typically 3-4x benchmark improvement, when compared to a VIA C7 1.5GHz / CN700 system).
Available from the end of May/first week of June for £42.00 (EU 52, $82) from the following location.
Share this WHS Article with Others: