Benjamin Robichaud has updated his add-in that displays the Windows Event Logs, also known as Event Viewer in the Home Server Console. Once installed you can choose which log to monitor, filter the entries with Show All, Warnings, Errors, etc and clear the logs as well.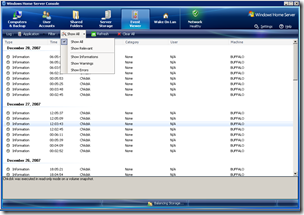 Version 1.1.0.0 includes the following:
Fix : only displays the last 500 entries of a Log, thus preventing the console to freeze while iterating over too many items.
Fix : 'Show Relevant' now only displays 'Warnings' and 'Errors'.
New : 'Show Unknowns' is now available under the 'Filter' dropdown box.
New : displays the event ID, per request.
Event viewer can be downloaded from here.
Thanks to We Got Served for the update details.
Share this WHS Article with Others: