Alexandra Kent the creator of the add-in Vista Caller-ID has another add-in up his sleeves.
Since a UPS is basically not really supported on Windows Home Server Alex is creating "GridJunction" a battery backup/UPS management add-in that integrates into the WHS console and issues power alerts and can safely shut-down the Home Server if desired when the battery level hits a preset threshold.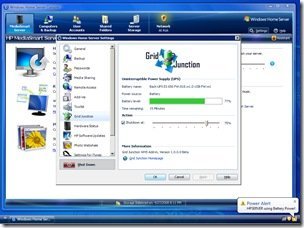 The add-in will monitor the state of any UPS connected via either USB (on say the HP MediaSmart) or even any Serial port for homebuild WHS and or legacy UPS's. If the WHS switches to battery power (i.e. lead unplugged, no power etc) it will use the WHS Notification system to broadcast a network wide message something like "Attention your Home Server is running on Battery Power. Time Remaining 34 minutes" – in say YELLOW, then if a certain threshold has been reached for instance 30% battery remaining; another system wide message but in RED will be broadcast saying "Your Home Server battery is low and is safely shutting down" etc.
"GridJunction" will be available at a future date, so if you have any opinions, comments or ideas on this add-in please leave a comment to this post.
Share this WHS Article with Others: