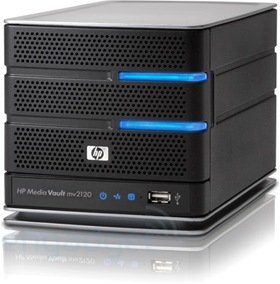 Yikes! The MediaSmart Server has been chopped in half….or has it?
Actually no. It's the new Linux powered NAS device from HP known as the Media Vault. Available in 2 configurations the entry-level mv2100 comes with a 500Gb hard drive, and the mv5100 has two 500GB or 750GB drives. Additional capacity is available via two USB 2.0 ports and additional drives can be added for RAID 1 capability also. Gigabit Ethernet, and DLNA / UPnP networking (as well as direct-attached mode) are as standard. Both also include 2 GB of offsite, online backup.
Pricing is TBA for the mv5100 but the mv2100 is expected to retail for $299. Both will be available in March.
Share this WHS Article with Others: