As well as WHS having a back-up engine built in, it also has a lessor known feature to also help you protect your data, Volume Shadow Copy. Shadow Copy (also called VSC, Volume Snapshot Service or VSS) automatically creates point-in-time copies of files as you work, so you can quickly and easily retrieve versions of a file you may have accidentally deleted. Shadow copy creates copies on a scheduled basis of files that have changed. Since only incremental changes are saved, minimal disk space is used for shadow copies.
It works on single files as well as whole folders. When restoring a file, all previous versions that are different from the live copy on the disk are shown. When accessing a previous version of a folder, users can browse the folder hierarchy as it was in a previous point in time.
The VSS service takes a snapshot every 12 hours at noon and mid-night for all network shares. It's normal for it to be set to disabled, but it does get run. The number of copies that will be kept is dependent on how much free space you have free, how many files have changed, and how big those files are. Lots of changes, or changes to big files, or little free space, all mean that few copies are kept.
If you have a client operating system that supports VSC (Windows Server 2003, and all releases of Microsoft Windows thereafter) you can browse and restore the old versions using the normal interface: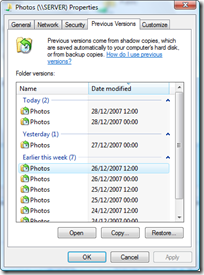 In your client, right click on the connector in your task, shared folders, then chose a folder, right click on it, properties, then "Previous Versions" tab.
Share this WHS Article with Others: