Blogger Albert Griscti-Soler was after a way to to put his Windows Home server into standby or hybernation from 2am to 5pm (weekends excluded) to save 60% of his electricity bill but could not find an easy way to do it….until now!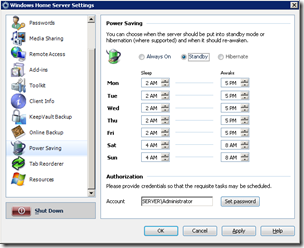 Albert has written an add-in that enables the task to be completed easily. Once installed the Power Saving tab can be accessed via the settings menu within the console. Here you have the choice to use standby, hibernation (if you've enabled it on your system) or to disable the power savings; additionally you can specify the 'bed-time' schedule, the time when Home Server will be "sleeping". The first time you enable 'Power Saving', you will need to provide authorization (i.e. username and password) since the Task Manager requires a valid account in order to run the scheduled tasks.
More info and the download are available from runtime360.com.
Share this WHS Article with Others: