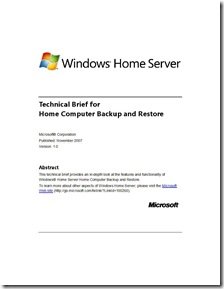 Technical Brief for Home Computer Backup and Restore is another technical brief from Microsoft for Windows Home Server. This 26 page PDF document provides an in-depth look at the features and functionality of WHS Home Computer Backup and Restore complete with an overview of the backup process along with it's features, functionality and benefits.
Backup and restore are covered in depth showing us how it is implemented and how backups are stored. We are shown how to do a restore for both individual files/folders and for a complete PC as well. A great tip included in this white paper is how to save and restore a copy of the backup database in case you lose a single hard drive.
PDF download from here.
Share this WHS Article with Others: