Many of you are using the free SyncToy from Microsoft. A utility for copying, moving, and synchronization of different directories between a Windows XP or Vista machine and WHS.
Eric Maurer plans to integrate this great tool into an add-in for Windows Home Server that will:
Open Microsoft SyncToy directly from the console
View and Run Folder Pairs from the console
Open Scheduled Tasks from the console
Run and manage Scheduled Tasks from the console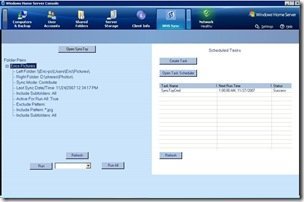 Stay tuned for more information.
Share this WHS Article with Others: