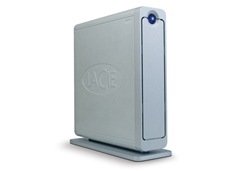 In the past we have posted information about Linux alternatives to Windows home Server including the Ubuntu Home Server Edition Project.
Today I have details of another Linux based product that claims to offer all the features of Windows Home Server. Its HipServ from Axentra Corporation based out of Canada. It has recently been released by LaCie on one of their NAS drives and sells for $199 USD which includes both the software platform pre-installed and a 500GB NAS drive. It allows you to do automated backups from Windows or Mac computers in your home – it is fully Mac compatible with OS 10.3 and 10.4, and they're working on testing with Leopard now. It allows you to access content remotely through a browser, or from a mobile device (WM5, WM6, Blackberry and iPhone). They even include a DLNA compliant and Windows Media Connect media server on board, so you can access content from your Sony Playstation 3, xBox 360, Roku, and others. Axentra are also working on a VM version of the product which will run on a Windows based PC as well.
More details are available from the Axentra web site and from LaCie.
Many thanks to Antonio for the information.
Share this WHS Article with Others: