Eric Maurer has posted details about his first add-in he has created on the WHS forums. It uses Windows Management Instrumentation (WMI) to get hardware information from the WHS Server machine as standard, and also from the client computers after supplying the usernames and passwords for them. This information displays your processor, memory, IP address, drive size, drive temp, and if a drive SMART failure is predicted.
Firewall settings may need to be adjusted to permit WMI on the client machines.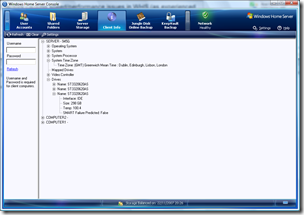 More information and the download are available from Eric Maurer's WHS Add-In Page.
Support is also available from the Client Info Add-In thread in the WHS forum.
Share this WHS Article with Others: