Developer Brendan Grant has another add-in for us. Tab Reorderer enables you to change the order of the tabs which are displayed on the main window in the Windows Home Server console.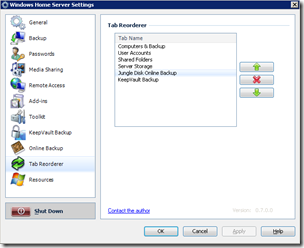 To install place the downloaded msi file into the \\SERVER\Software\Add-Ins folder and install normally via the console add-ins tab. Once installed the settings are available via Settings, Tab Reorderer. All third party tabs can now be moved by highlighting and pressing the appropriate direction button. Once done, click the OK or Apply button and then restart the Home Server Console (optionally with the prompt).
The location of the 4 official Microsoft tabs (Computers & Backup, User Accounts, Shared Folders and Server Storage) cannot be changed so the red X button is provided so that a user can select (likely on the first run of the add-in) which tabs the user doesn't want to have displayed in the add-in's list in future.
Download from here.
Share this WHS Article with Others: